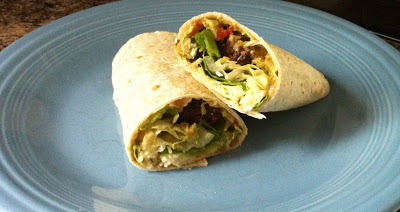 These are so good and a great option for a healthy dinner! I can only give credit to family.go.com.
Ingredients:
1 lb. lean ground meat
1 1/2 cup refried beans
2 jalapenos, diced and without seeds
1 avacado, peeled and pitted
1 cup fresh salsa
5 tortillas
Shredded lettuce
Pepper jack cheese, shredded
Limes wedges
1. Preheat oven broiler. Place oven rack in upper third part of the oven. Line a pan with aluminum foil and coat with cooking spray.
2. Mix ground beef, beans and jalapenos just until combined. Do not over mix. Shape into five oblong patties.
3. Broil patties 12-15 minutes, turning once after about 7 minutes.
4. In a medium bowl, mash avacado and mix with salsa.
5. Spread guacamole on to tortillas. Sprinkle with lettuce and cheese. Top each with a burger, sprinkle lime juice from one wedge and wrap!
Source: family.go.com