There are definitely fancier stroganoff recipes, but this is perfect for a quick weeknight meal and it's kid-friendly (at least, there is only one ingredient my 7-year-old picks out – the onions).
Simply slice a half-cup of onion (the recipe says to chop, but I keep 'em big so my daughter can easily find them) and your red meat of choice. Sautee them 'til cooked through in a pan with a little vegetable oil, or I sometimes just spray the pan with cooking spray because it's gonna get pretty juicy in there.

Then you'll add the soup, sour cream and paprika. Feel free to add more paprika; it really makes the dish. Mix together well and heat through.
[I don't have a picture of those added ingredients because I ended up transferring this to a larger pan. Maybe you suspected that was going to happen.]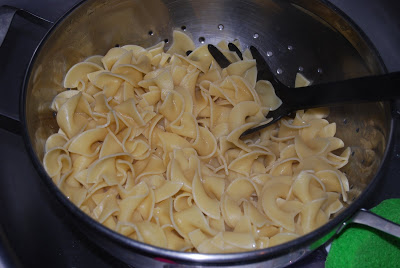 Then you dish out some of these yummy egg noodles onto plates and top with the stroganoff.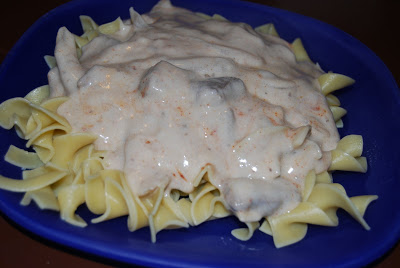 Beef Stroganoff
1 lb. boneless beef sirloin steak
1/2 cup chopped* onions
1 can cream of mushroom soup
1/2 cup sour cream
1/2 tsp paprika
Hot cooked egg noodles
1. Cut steak into thin slices across the grain.
2. Brown the steak and onions in a small amount of oil.
3. Add soup, sour cream and paprika. Mix and heat until smooth.
4. Serve over noodles.
*Or large slices if someone wants to be able to pick them out.
Source: My mom, Beverly