Don't let the length of this recipe stop you from trying it. It comes together pretty easily and is so moist and delicious. It got rave reviews at a church function.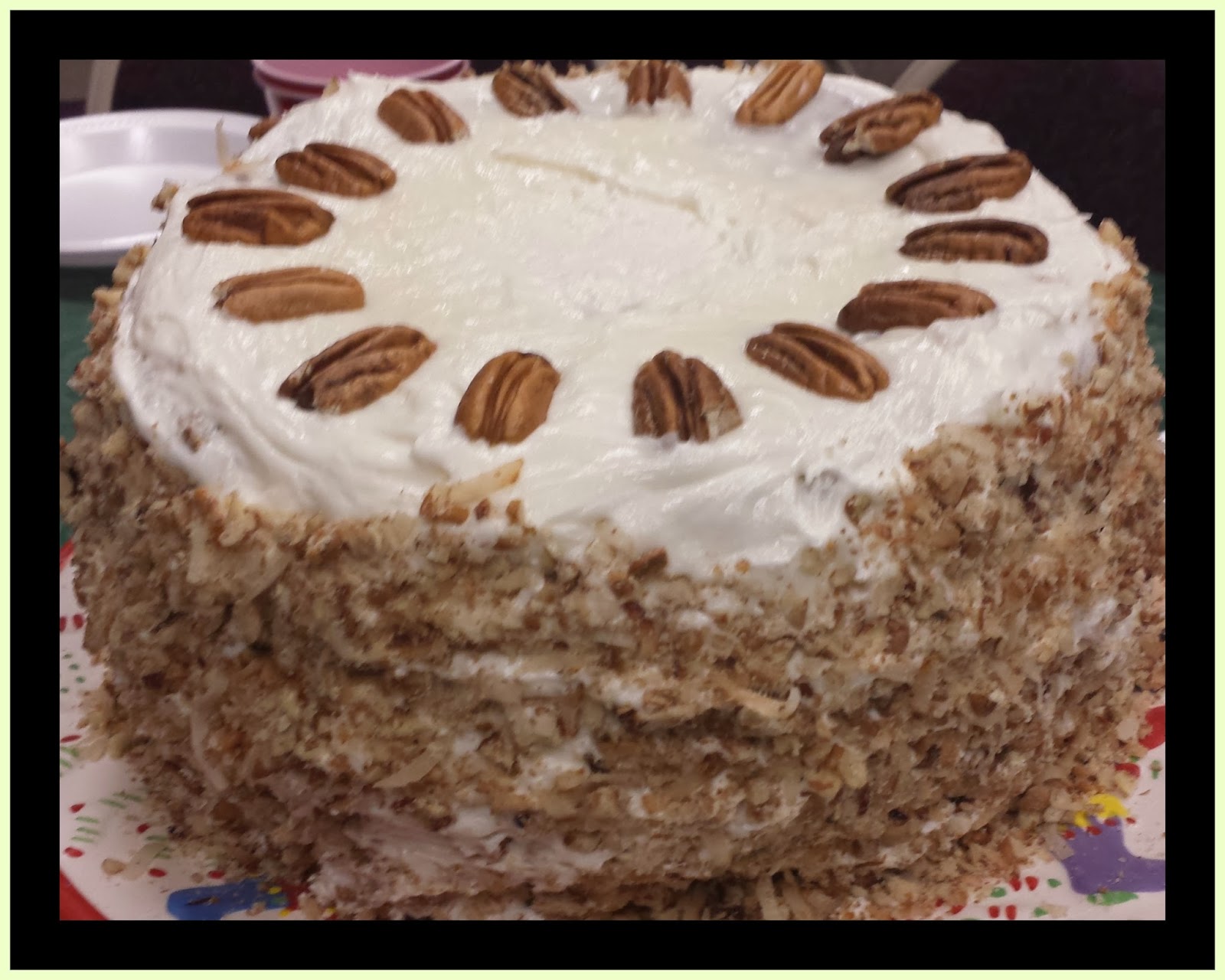 Ingredients
Cake:
2 c. pecan halves
2 c. sweetened flaked coconut, divided
1/2 c. plus 2 T. shortening
1/2 c. plus 2 T. butter, softened
1 1/2 c. sugar
1 c. light brown sugar, packed
6 eggs, separated
1 1/4 c. canned pumpkin
1 t. cinnamon
1 t. nutmeg
2 t. vanilla
2 1/2 c. flour
1 1/4 t. baking soda
3/4 t. baking powder
1/2 t. salt
1 c. buttermilk
Caramel Frosting:
1/2 c. butter
1 c. light brown sugar
1/4 c. heavy cream
1/8 t. fleur de sel or other coarse sea salt
1 t. vanilla
2 c. sifted powdered sugar
Cream Cheese Frosting:
1/2 c. butter, softened
1 (8 oz) pkg. cream cheese, softened
4 c. powdered sugar
1 t. vanilla
Directions:
1. Preheat oven to 350 degrees. Place pecans in a single layer on a baking sheet and toast for 10 to 15 minutes or until golden brown and fragrant. Reserve 8-10 halves for decorating the top, then finely chop the remainder. Set aside 1 c. chopped for the cake batter, then place the remaining chopped pecans in a samll bowl. Toast 1 c. coconut in a nonstick skillet over high heat until golden brown, about 3-4 minutes, stirring often. Reserve remaining coconut for cake batter. Place the toasted coconut in the bowl with the pecans and mix. Set aside.
2. Cream the shortening, butter, sugar, and 1 c. light brown sugar together until fluffy on medium speed. Add egg yolks, one at a time, until incorporated. Beat in the pumpkin, cinnamon, nutmeg, and 2 t. vanilla until well mixed.
3. Sift together the flour, baking soda, baking powder, and 1/2 t. salt. Add to the butter mixture alternately with the buttermilk. Stir in 1 c. reserved (untoasted) coconut and the reserved 1 c. chopped pecans.
4. Beat the egg whites until stiff in a medium bowl. Gently fold into batter. Divide the batter equally among 3 (9 inch round) cake pans that have been sprayed with nonstick cooking spray and lined with parchment paper or wax paper. Bake at 350 degrees for 30-35 minutes, or until toothpick inserted in center comes out clean. Cool completely on wire rack.
5. When cakes are completely cool, make the caramel frosting. Place 1/2 c. butter, 1 c. light brown sugar, 1/4 c. heavy cream and the fleur de sel in a medium heavy saucepan over medium-high heat. Bring to rapid boil and boil for 1 minute while stirring constantly. Remove from heat and beat in 1 t. vanilla and 2 c. powdered sugar with a handmixer on medium speed until mixture is thick and spreadable. Immediately spread half of the frosting on the first cake layer that has been placed on cake plate or cardboard cake round, bottom side up (flat side up). Place the second layer on top, bottom up, and spread the remaining frosting to the edges. Place the third layer on top, bottom side up.
6. Make the cream cheese frosting. Beat the butter and cream cheese until creamy and fluffy with the whisk attachment on high speed. Gradually beat in the powdered sugar until fluffy and smooth. Beat in vanilla. Frost the outside and top of cake with frosting. Carefully press the reserved coconut-pecan mixture into the sides of cake, then place pecan halves on top for decoration.
Source: riceandbeansprintablerecipes.com