This recipe was a Pinterest find, don't you just love Pinterest? It's totally changed my cooking lately. Anyways – this recipe is amazing. My picky husband as well as my 3 year old son loved this. I'm crazy for it. I hope you enjoy it too!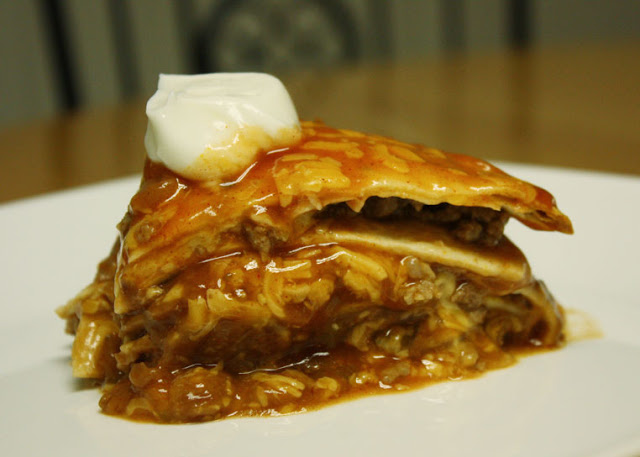 Cheesy Enchilada Stack
Ingredients
1 lb. Lean ground beef
2 (10 oz) can Red Enchilada Sauce (Our favorite is the Old El Paso brand)
6 (8 inch) flour tortillas
1 (8 oz) bag Shredded Cheddar Cheese
1 (16 oz) can refried beans
1 (4 oz) cans diced green chilies
Directions
-Cook the beef in a skillet over MED-HIGH heat until well browned. Drain off fat. Stir 1/2 cup enchilada sauce in the skillet with the beef.
-Spray a baking sheet (I used a pie plate… I was afraid I'd have a big mess on my hands if I used a baking sheet) with non-stick cooking spray.
-Place 1 tortilla onto the baking sheet. Top with 1/3 of the beef mixture and 1/4 cup cheese.
-Top with 1 tortilla, half the refried beans, 1/2 cup enchilada sauce, 1 can drained green chilies, and 1/4 cup cheese.
-Repeat the layers one more time.
-Top with 1 tortilla, remaining beef mixture and 1/4 cup cheese.
-Top with remaining tortilla.
-Cover the stack with aluminum foil.
-Bake at 400 F for 40 minutes or until the filling is hot.
-Uncover the stack and top with remaining enchilada sauce, cheese and green onion.
-Bake 5 more minutes or until the cheese is melted.
-Serve & Enjoy!!
** If you wanted to make this gluten-free, I think it would taste great with Corn Tortillas!
Source: Chef in Training