I love Red Lobster. I know it's a chain, but still – I love eating there. One of my favorite reasons to go there is to get their amazing Cheddar Bay Biscuits. Thanks to the wonderful internet – I found a fabulous copy cat recipe a few years ago. These are made all the time in my house. They are so quick and easy to make. I promise they'll become a go-to biscuit recipe in your house.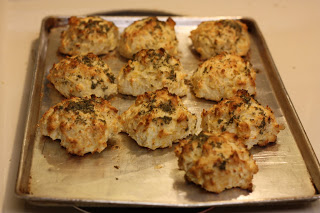 Red Lobster's Cheddar Bay Biscuits
Biscuits:
2 1/2 cups Bisquick
4 Tbsp cold butter
1 cup cheddar cheese, shredded
3/4 cup milk
1/4 tsp garlic powder
3 Tbsp butter
1/2 tsp garlic powder
3/4 tsp dried parsley flakes
1. Preheat your oven to 400 degrees. Lightly grease or line one cookie sheet with parchment; set aside.
2. Combine Bisquick with cold butter in a medium bowl using a pastry cutter (I just used 2 forks). Don't worry about mixing too thoroughly; there will be small chunks of butter in the mix about the size of peas. Add cheddar cheese, milk, and garlic powder. Mix by hand until combined, but don't over mix.
3. Drop 1/4 cup portions of the dough onto the lightly greased cookie sheet. Bake for 10 minutes in preheated oven until the tops of the biscuits begin to turn very light brown.
4. While the biscuits are baking, melt butter is a small bowl in the microwave. Stir in garlic powder and dried parsley flakes. Use a brush to spread the garlic butter over the tops of all the biscuits. Pop them back in the oven for another 3-5 minutes. Makes one dozen.
Seriously – these take about 20 minutes from start to finish. Better go ahead and make a double batch – you know you'll want seconds…
Source: www.the-girl-who-ate-everything.com/2010/03/cheddar-bay-biscuits.html