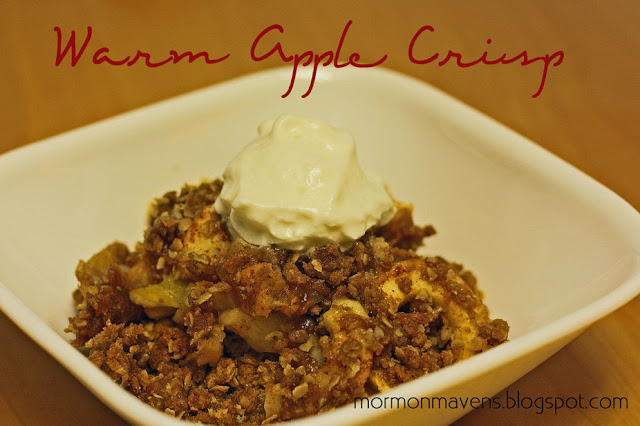 This weekend is General Conference. I love Conference weekend, especially October Conferences. My whole family gathers together and spends the weekend in the North Georgia Mountains at my grandparent's mountain home. (yes, Georgia has mountains).
It's my little family's tradition to go apple picking between Conference sessions. Lucky for us, my grandparent's mountain home just so happens to be in the Apple Capitol of Georgia. I love seeing my son running around the orchards looking for that perfect apple. We usually come home with a peck (or more) of apples. We LOVE apples. What all do we do with them? Oh, I little bit of everything. One of my favorites, Apple Crisp!
Picking apples in Ellijay, Georgia last year
This recipe has been in the works for close to 7 years. It's 100% my creation and am pretty proud of how I've been able to tweak it and make it perfect!
APPLE CRISP
Ingredients:
6-8 apples, peeled and sliced (Make sure they are good cooking apples. My favorite are Rome Beauties… but you can only find those in the South 🙂 )
1 1/2 cup brown sugar
1 cup oatmeal, old fashioned
1 cup flour
1 stick of butter or margarine, softened
2 tsp cinnamon
Directions:
Preheat oven to 375 degrees.
1. Grease 9×13 glass baking dish.
2. Toss apples in a small amount of sugar and cinnamon. Arrange apples in greased baking dish.
3. Mix all remaining ingredients together. You can either use a pastry cutter or a stand mixer. I prefer the mixer, it gets the butter distributed more evenly. The mixture should look crumbly. Spread evenly over top of apples.
4. Bake 45 minutes until apples are tender and top is crisp.
Makes 6 servings
Top with fresh whipped cream or vanilla ice cream… and ENJOY!!