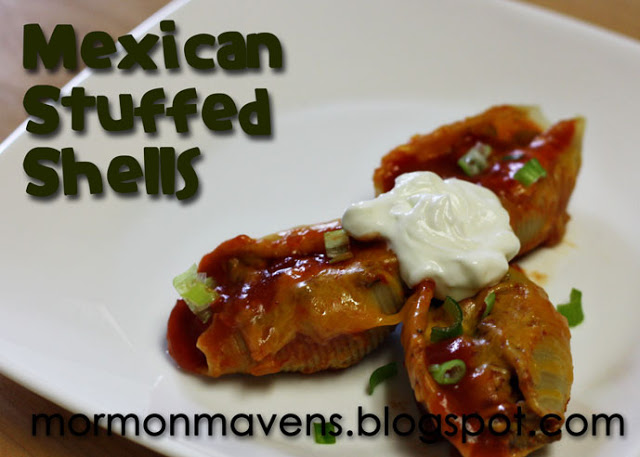 I love tacos…. I love pasta. So naturally when I came across this recipe a while back – it was meant to be made. This recipe is so easy and a really nice spin on taco night. I know you'll enjoy it. It is easy to either kick up the heat or to tame it down by varying the ingredients.




Mexican Stuffed Shells
Ingredients:
1 lb. ground beef (turkey or chicken would be great too)
1 package taco seasoning
4 oz. cream cheese
16-20 jumbo pasta shells
1.5 cup salsa (more/less depending to your taste)
1 cup taco sauce (at least)
1-2 cup cheddar cheese (depending on how cheesy you want it!)
Directions:
– Preheat oven to 350°.
– In a pan cook ground beef; add taco seasoning and prepare according to package directions. Add cream cheese to beef, cook on medium/low until cream cheese is melted and incorporated. Set aside and cool. (If you want to kick up the heat, diced green chiles would be great to add to the beef.)
– Cook pasta shells and drain. Set shells out individually on cutting board/baking sheet so that they don't stick together.
– Pour salsa on bottom of 9×13 baking dish.
– Stuff each shell with the meat mixture.
– Place shells in 9×13 pan open side up. Cover shells with taco sauce.
– Cover with foil and bake for 30 minutes. After 30 minutes, add shredded cheese and bake for 10-15 more minutes, with the foil removed.
– Top with any condiments you'd like. Green onions, sour cream, lettuce, salsa, taco sauce… you name it!