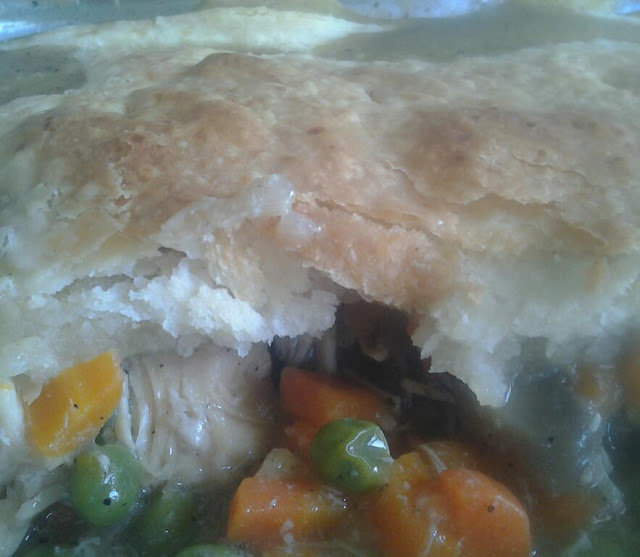 Makes enough to fill a large glass pan
Preheat oven to 450 degrees
2 sticks butter
​
2 pinches of salt
​
6 Tbls milk (at the end
of mixing
)
2 cups flour
​
2 pinches of sugar
To prepare the crust, cut each stick into fourths; it doesn't have to be cold, but it should not be warm to the point of melting. Add the flour, salt, and sugar to the butter—use the multi-bladed pastry knife with the handle to mix and break up the butter into small pieces (push down and twist at the same time to create a lot of floured chunks of butter.) Put the milk in at this stage and cont
inue mixing until it doesn't see
m like you are making any more progress. Then use you
r
hand(s) to
squeeze everything together into a ball of dough.
Form into a disc, wrap in plastic wrap and chill until it can be easily handled—at least half an hour. While it is chilling, prepare the filling.
Filling:
In a Medium Sauce pan
, add
:
2 cups diced
raw
carrots (very thinly sliced carrots
also
work well)
1 stock of diced celery (optional)
3
Tbls
dried
white onion
flakes
2 4-oz cans of mushrooms; pour everything into the pan including the approximately
½ cup of water in each can
or
1 cup thinly sliced fresh mushrooms
Pour
the water from the quart of cooked chicken into the pan (it will be about 1 cup's worth) then add another 3 cups of water, bring to a boil and let simmer for 20 minutes.
Using a strainer and bowl, pour what has been cooking into the strainer
inside the bowl
, return the vegetable
s to the pot
, put 4 cups of the drained liquid back into the pot. If you need more, just add water from the tap to make up the 4 cups of liquid.
Put the pot on medium heat and Add:
3 tsp Chicken (or turkey) soup base (Penzey's paste)
In a small cup c
ombine
6 Tbls
of
cornstarch
with
6 Tbls
of
cold water
and slowly add the white liquid mixture to the pot while stirring. Stir
pot
constantly over medium heat until
it
starts to boil. Let boil for 1 minute before adding:
4 cups
cooked
diced chicken (or turkey) (we use
the drained q
uart of bottled chicken)
1 tsp Pensey's poultry seasoning or rubbed sage(optional)
Stir just enough to break up the chunks of meat and equally distribute everything before pouring into the oil-sprayed pan
.
Roll out the pastry on a flour-covered table into the shape and size of the pan. Place the pastry on top of the filled dish and cut slits to vent.
Bake at 450 degrees for 30 minutes. Check after 20 minutes. If the crust is getting really brown, place a piece of aluminum foil loosely over the top. Or, if it is not browning quickly enough, turn on the broiler from above to hasten the browning process. Let stand for 10 minutes before serving. Because of the temperature, it will stay hot in the bowls for quite some time while eating.
Source: Penzey's Spices Catalog
http://www.penzeys.com/