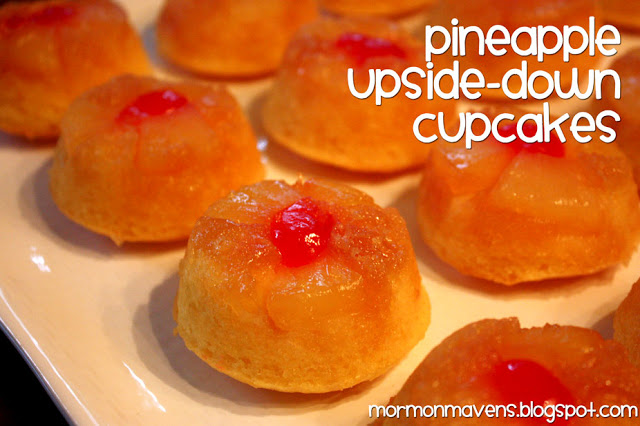 This is such a tasty dessert! Who ever said that cupcakes must have a huge glob on icing on top has obviously never had these. They present so well too! All your friends will think that you spent loads of time making this gourmet dessert. (Just don't tell them that you use a cake mix… I promise not to tell.)
Pineapple Upside-Down Cupcakes
Ingredients
1 can(s) 20oz sliced pineapple drained, juice reserved
1 bx yellow cake mix (My cake mix was sugar free, and turned out great!)
1/2 c oil
3 eggs
1/3 c butter, melted
2/3 c brown sugar
12 maraschino cherries cut in half
Directions
1. Heat oven to 350°F. Spray 24 regular-size muffin cups with cooking spray.
2. Cut each pineapple slice into 4 pieces; set aside.
3. In large bowl, beat cake mix, oil, eggs and reserved pineapple juice with electric mixer on low speed 30 seconds. Beat on medium speed 2 minutes, scraping bowl occasionally.
4. In small bowl, stir together melted butter and brown sugar. Spoon 1 1/2 teaspoons butter mixture into each muffin cup. Top each with 2 pineapple pieces. Place cherry half, cut side up, in center of pineapple pieces. Spoon 1/4 cup batter into each cup. (My muffin pans seem small, make sure that you don't over fill your muffin tins. I ended up putting less than a 1/4 cup.)
5. Bake 20 to 25 minutes or until toothpick inserted in center comes out clean. Cool 5 minutes. Run knife around edge of cupcakes to loosen; invert onto cookie sheet. Serve warm. (I also ended up cutting a few of the muffin crowns off so that the cupcake would sit flat.)