During our first Christmas in NC we decided to change some of the "food traditions" a bit and start a "make your own shape pizza for Christmas Eve Dinner" tradition. Thus began the quest for a good pizza sauce.
After trying different commercially produced sauces and not finding anything that we really liked, I began to experiment. As they say… one of the "true secrets" to good pizza is in the sauce. This is our current favorite Pizza Sauce and is also a great dipping sauce for Pita and Bread Sticks.
I have included the "fresh" version and the "shelf stable" version – Enjoy!
Ingredients – fresh:
1 15oz can stewed or diced Italian Tomatoes
2 Roma Tomatoes chopped
1/2 cup chopped onion
6-10 fresh Basil leaves – chopped
10 fresh Oregano leaves – chopped
1 clove garlic chopped
1 tsp sugar or 1/2 tsp honey
Ingredients – shelf stable:
1 15oz can stewed or diced Italian tomatoes
1/4 cup dried Onion
2 tsp dried Basil
3/4 tsp dried Oregano
2 tsp garlic powder
1 tsp sugar or 1/2 tsp honey
1. Place all ingredients into a blender and Puree for 30 seconds to 1 minute
2. Spread on desired pizza crust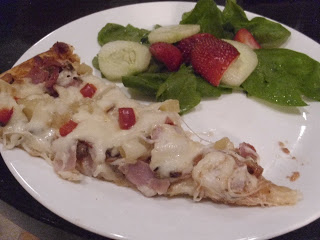 Source: A Jennie Original