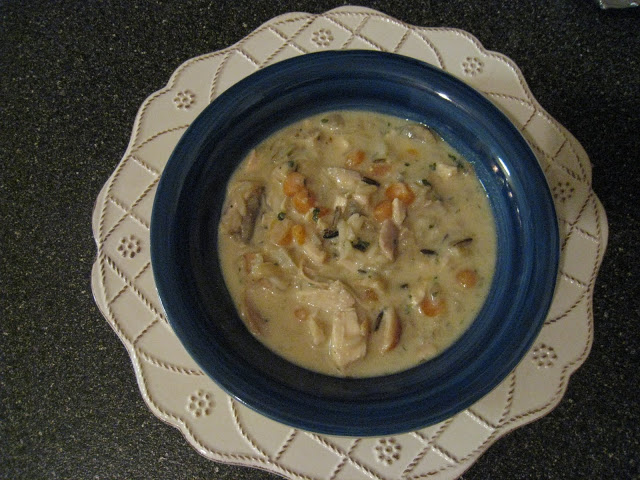 This is a definite go to soup, especially if you have leftovers. It's actually even better the next day. I've made this for friends when they are sick and, magically, they have recovered!
Ingredients:
1 6 oz. box long-grain and wild rice mix (such as Uncle Ben's)
1 T. olive oil
1 1/2 cups chopped red onion
1 cup chopped celery
1 cup chopped carrot
2 garlic cloves, chopped
1 8 oz. package mushrooms, halved
1/4 cup all-purpose flour
1/2 t. dried tarragon
1/4 t. dried thyme
2 cups water
2 tablespoons sherry
32 oz. chicken broth
1 12 oz can evaporated milk
3 cups shredded roasted skinless chicken
Directions:
1. Prepare wild rice mix according to package directions; set aside.
2. Heat oil in a large Dutch oven over medium-high heat. Add onion and next 4 ingredients (onion through mushrooms); saute for 6 minutes or until onion is tender. Lightly spoon flour into a dry measuring cup; level with a knife.
3. Stir flour, tarragon, and thyme into onion mixture; cook 1 minute, stirring frequently. Add 2 cups water, sherry, chicken broth, and evaporated milk; bring the mixture to a boil. Reduce heat, and simmer 20 minutes or until slightly thick.
4. Stir in cooked rice and chicken, cook 10 minutes or until thoroughly heated.
Source: Cooking Light