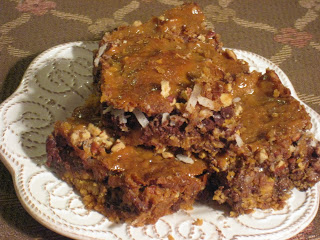 Oh yeah baby! You know that 7 layers are never enough. I dare you to add another layer.
Ingredients:
1/2 cup butter
1 1/2 cups crushed graham crackers
1 cup semisweet chocolate chips
1 cup dark chocolate chips
1 cup butter scotch chips
1 cup Heath milk chocolate English toffee baking chips
7 oz. sweetened coconut
2 cups chopped walnuts (I like to use pecans and toast them first)
7 oz. canned Dulce de Leche (find it on the ethnic food aisle)
7 oz. sweetened condensed milk
Directions:
1. Melt butter in a saucepan and mix in the crushed graham crackers. Press the mixture into
the bottom of a lightly greased 9×13 pan.
2. Layer on the next 6 ingredients .
3. In a small bowl, mix the Dulce de Leche and condensed milk (warm in the microwave for a
few seconds if necessary to blend and make pourable). Pour mixture evenly over layered
ingredients.
4. Bake in a preheated 350 degree oven for 25-30 minutes. Cool in pan and cut into squares.
Source: Inn Cuisine