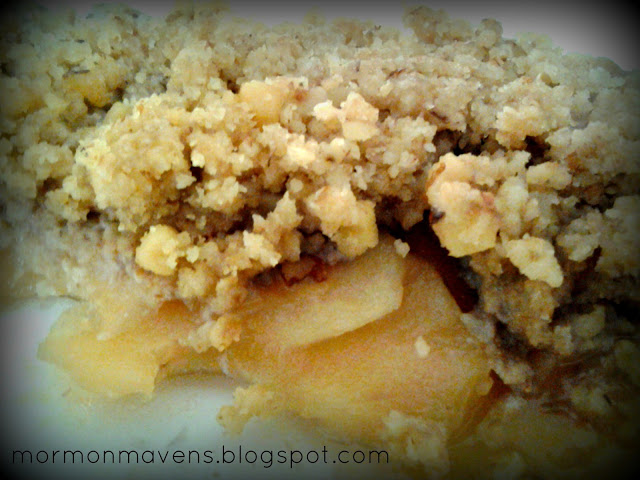 My cousin's nanny made this Apple Crisp for us last conference weekend. It is truly the best Apple Crisp I have ever had!!!
5 large

apples

, peeled and sliced thin
1 lemon, zested and juiced
3 tablespoons all-purpose flour
1/4 cup tightly packed brown sugar
2 tablespoons sugar
1/2 tsp vanilla extract
Pinch kosher salt
For the topping:
1 1/4 cups all-purpose flour
1/2 cup rolled oats (I like quick-oats best, but old-fashioned rolled oats are fine too)
1/2 cup brown sugar
1/2 cup sugar
1 1/4 stick cold unsalted butter, cut into pea sized pieces
1/2 cup chopped pecans
Pinch kosher salt
1 to 2 tablespoons cold water
Special equipment: 6 (6-ounce) ramekins OR large casserole dish
Preheat the oven to 350 degrees F.
For the filling:
Toss the peaches in a large bowl with the zest and lemon juice. Add the rest of the ingredients and stir to combine. Divide the filling evenly between the ramekins.
For the topping:
Combine flour, oats, sugar, and brown sugar. Add butter; use your hands or a pastry blender to incorporate the butter. The mixture should be crumbly. Stir in pecans and salt. Add water, 1 tablespoon at a time until mixture is clumpy but crumbly.
Top each ramekin with the topping. Be sure to loosely sprinkle the topping and not pack it down. The idea is to look very crumbly and craggy. Place the ramekins on a sheet tray and bake in the preheated oven for 20 to 25 minutes, or until the filling is hot and bubbly and the topping, brown and crispy.