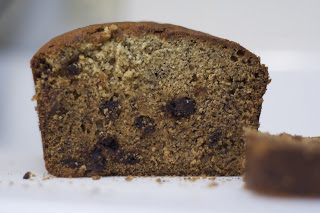 Simple and good, not to mention a GREAT way to get rid of those blackening bananas that are sitting on the counter. Did I say "Blackening"? I meant, *ahem* "Overly brown" because bananas would NEVER get black on MY counters.
Ingredients:
1 C Sugar
1/2 C Shortening
1/2 tsp Salt
2 Eggs
3 mashed bananas
2 C Flour
1 tsp Baking Soda
1/2 C Mini Chocolate Chips* (optional). I used regular chips in this recipe and you can see they sink a little. Mini chips don't sink, but I didn't have any, ok? sheesh… 🙂
1. Preheat the oven to 325 degrees F.
2. Cream together sugar, shortening, salt and eggs until smooth and creamy.
3. Add Bananas, flour and baking soda. Mix well.
4. Add your chocolate chips (if you so desire) and stir until evenly incorporated.
5. Pour into a greased loaf pan and bake for 70 – 80 minutes or until springy to the touch.
6. Cool thoroughly and dump out.
* We also use nuts in addition/place of. You may omit them or use one or the other.
Source: My Aunt, Janae
~Kara