Tonight for supper I decided to try a meal from food storage. I get automatic shipments of foods from
THRIVE
. I really want to make this work for our family. I have the THRIVE cookbook so that I can use and rotate the foods in normal use. This recipe is from that cookbook.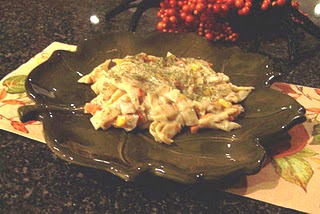 Sprinkle a little dill weed on it for color and flavor!
Ingredients:
I cup THRIVE Chopped Chicken (freeze dried)
4 cups THRIVE Egg Noodle Pasta
1/2 cup THRIVE Sweet Corn (freeze dried–I don't have this yet so I used canned corn on hand)
1/2 cup THRIVE Celery (freeze dried)
1/2 cup THRIVE Carrot Dices (I used dehydrated carrot dices canned previously)
1 tablespoon THRIVE Chopped Onions (freeze dried–I used dehydrated minced onions canned previously)
1 teaspoon THRIVE Iodized Salt (I used salt on hand)
1 teaspoon garlic powder
1 teaspoon dried thyme
2 cups THRIVE Classic Gravy (see recipe below)
1/4 cup THRIVE Powdered Milk, rehydrated (3/4 tablespoon powder + 1/4 cup water–I used previously canned non-fat dehydrated powdered milk)
1 cup Parmesan, shredded
1. In a small bowl, cover chicken dices with warm water. Let sit for 5-10 minutes or until softened and rehydrated. Drain.
2. Preheat oven to 350 F.
3. In a large pot of salted boiling water, cook egg noodle pasta according to directions on can. Drain noodles, then toss with gravy and milk in a large bowl with the vegetables and onion until completely coated. Add salt, garlic powder, and thyme.
4. Toss mixture with chicken and stir to combine. Pour into casserole dish (I used a 9 x 13) and top with 1/2 cup Parmesan cheese.
5. Cover casserole with foil and bake at 350 F for 20 minutes, or until bubbly. Take off foil and top with remaining 1/2 cup Parmesan cheese. Bake an additional 15 minutes.
THRIVE Classic Gravy
Ingredients:
4 tablespoons butter (I used 5 tablespoons from two partial sticks so that I could use them up)
1 cup THRIVE Powdered Milk,dry (I used non-fat powdered milk on hand)
1/4 cup THRIVE White Flour (I used all-purpose flour on hand)
3 cups water
3 teaspoons THRIVE Chicken Bouillon
3/4 teaspoon THRIVE Iodized Salt (I used salt on hand)
3/4 teaspoon pepper
Th
1. In a medium saucepan, melt butter. Whisk in powdered milk and flour.
2. Gradually add the water to the powdered milk mixture and whisk in the chicken bouillon.
3. Add salt and pepper and cook over medium heat, stirring constantly until gravy is thickened and smooth. Remove from heat.
Source: Shelf Reliance THRIVE Cookbook