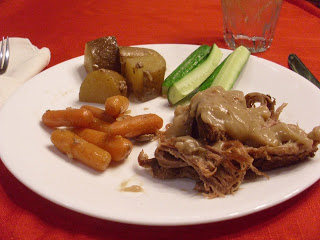 They say that necessity is the mother of invention. Time constraints also bring about "invention". The browning of the meat step was omitted by accident while trying to get young ones dressed and out the door a number of years ago. The end result… the meat was more tender than when browned. I love it when an oops works out to your advantage.
This is our favorite Pot Roast and works well with beef or Pork.
To my friends who have asked for a good pot roast recipe. This one is for you.
Ingredients:
3# Sirloin Tip Roast or 3# of meat of your choice
Canadian Steak Seasoning
1 1/2# mini carrots – rinsed
5 medium red potatoes scrubbed and cut into 6Th's – I use Red Skin Golden Potatoes
Garlic Powder
1 medium onion chopped or equivalent in dried onions
1 1/2 cups water
1. Spray roasting pan with non-stick spray
2. Place roast in pan and sprinkle lightly with Canadian Steak Seasoning
3. Place carrots around roast in pan and sprinkle lightly with garlic powder and half of the chopped onions.
4. Place potatoes around roast in pan and sprinkle lightly with garlic powder and rest of onions
5. Add water
6. Cover and bake at 350 for 4-5 hours.
Crock pot directions:
1. Do the same as above through number 5
2. Cook on high for 7 hours or on low for 9-10 hours
Beef Gravy:
2 cups water
1 1/2 tsp Beef Soup Base
1/3 cup flour
1/2 tsp black pepper
1. Place all ingredients in small sauce pan and turn heat to med high
2. Whisk all ingredients together until smooth while liquid is heating up.
3. Whisk as needed until liquid becomes thick and bubbly.
The gravy can be used two ways. Either add it to the pot roast and it will cook in the gravy – this works best in the crock pot and gravy will be a thinner sauce or use as traditional gravy.
This freezes well after it is cooked. Just place all ingredients together in a zippy bag or freezer safe container. Store for 6 weeks.
Source: A Jennie Original