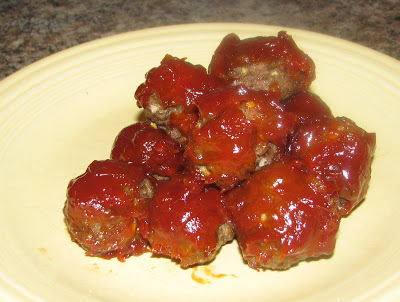 I'm a sucker for appetizers and party food, but when it comes to meatballs, I'm a snob (in addition to buttercream). These are the real deal. My mom has been making them for years and acquired the recipe from a lady that attended church with my grandmother. I'm giving a shout-out to the meatball lady from West Virginia! As you will see from the ingredients, this sauce is sweet.
Ingredients:
Meatballs
1 lb. lean ground beef
1/4 cup celery, finely chopped
1/4 cup onion, finely chopped
1/2 T worcestershire sauce
3/4 cup bread crumbs
1 egg
1/2 teaspoon garlic powder
Sauce
1 T chopped onion
1 T butter
1 cup ketchup
1/4 cup brown sugar
1 T mustard
1. Preheat oven to 375 degrees.
2. Combine all ingredients for meatballs in a large bowl. Mix together with hands.
3. Shape into meatballs. I roll mine to about the size of 2 tablespoons.
4. Place metballs in a 9×13 inch baking pan and bake, uncovered, for 25 minutes.
5. Drain grease from pan and set meatballs aside.
6. To make the sauce, melt 1 tablespoon of butter in a frying pan and sautee 1 tablespoon of chopped onion for 3 minutes.
7. Add ketchup, brown sugar and mustard. Simmer for 10 minutes.
8. Pour sauce over meatballs. Cover pan with foil and bak an additional 30 minutes at 375.
* These are very sweet and are best served over rice.