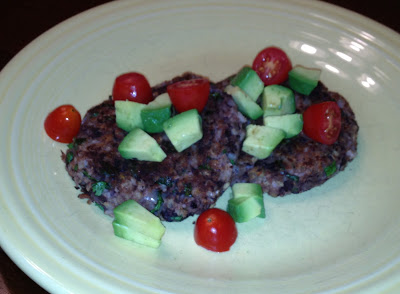 Ingredients:
Burgers
3 Tbsp olive oil
1 medium onion, chopped
2 cloves garlic, minced
2 Tbsp jalepeno pepper, minced
1 (15 0z.) can black beans, rinsed and drained
2 pieces of toasted whole wheat bread, pulsed into breadcrumbs
1 1/4 cups cooked brown rice
2 Tbsp fresh lime juice
1/2 tsp salt
1/2 tsp pepper
1/4 chopped cilantro
Salsa
2 avacados, cut into 3/4 inch pieces
1 cup cherry tomatoes, cut in half
1 tsp lime juice
1. Heat 1 tablespoon of the olive oil in a nonstick pan. Add onion and saute until soft. Add garlic and jalepeno and saute for an additional 2 minutes.
2. Scrape mixutre into a food processor. Add black beans, brown rice, lime juice, salt and pepper. Pulse just until beans are chopped, but not pureed.
3. Scrape black bean mixture into a large bowl. Add half of the breadcrumbs and 1/4 cup chopped cilantro. Stir mixture until combined.
4. Divide mixture into equal portions and form patties. The original recipe says 8 patties, I ended up with 6. If the mixture is too moist to form patties, add more breadcrumbs.
5. Refrigerate for 30 minutes.
6. Heat 1 tablespoon olive oil in a nonstick skillet on medium heat. Add 4 patties and cook for 4 minutes on each side, or until a good crust forms. Repeat with 1 tablespoon of the olive oil and remaining patties.
7. For the salsa, gently stir the avacado, tomatoes and lime juice.
8. Serve salsa over 2 patties.
Source: Cookin' Canuck