This is probably the first corn chowder I have ever made and possibly the first one I have ever eaten. I pinned this recipe on Pinterest. You can get it at this site Add A Pinch. I made it this afternoon but didn't get to actually partake until after 9:00 tonight. Busy, busy Sunday! Hope you enjoy.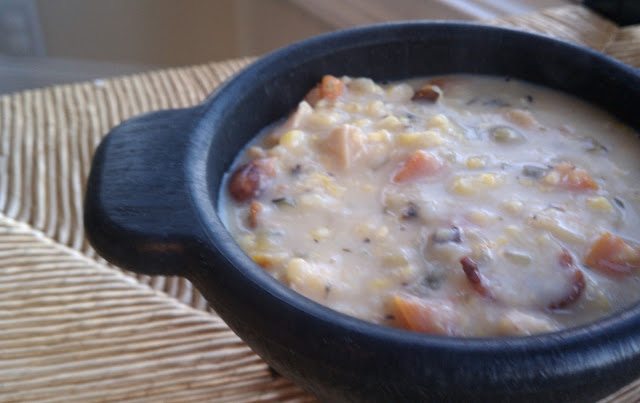 Ingredients:
1 tablespoon olive oil
1 onion (I used 3 shallots, because that is what I had on hand)
2 carrots
3 celery stalks (I used a cup of chopped, re-hydrated celery from my pantry)
3 garlic cloves (didn't use, since I was using shallots, but think it would be better if I had used some)
1 jalapeno pepper
3-4 boneless, skinless chicken breasts
3 pieces cooked bacon
2 cups milk
2 tablespoons all-purpose flour
2 20-oz. packages frozen creamed corn, thawed


1. Drizzle olive oil into the bottom of a large, lidded soup pot. Place over medium heat.
2. Add roughly chopped onion, carrots, celery, and minced garlic. Cover pot with lid and cook for about 5 minutes.
3. Remove stems, seeds, and membrane from jalapeno. Dice pepper finely and add to other vegetables.
4. Cube chicken breasts and add to vegetables. Add enough water to slightly cover all ingredients. Cover and cook for about 20 minutes, or until chicken is done.
5. Crumble bacon and add to the chowder.
6. Combine milk and flour in a measuring cup and stir well. Add to chowder.
7. Open packages of creamed corn and add to the chowder.
8. Sprinkle dried thyme into chowder and stir to combine.
9. Cover pot and simmer over low heat for about 20 minutes. Be careful not to let it burn. I actually scorched mine but didn't realize it until I was pouring the leftover chowder into a bowl to put it in the fridge. Had a great time scouring the bottom of the pan. Yeah.
Source: Add A Pinch