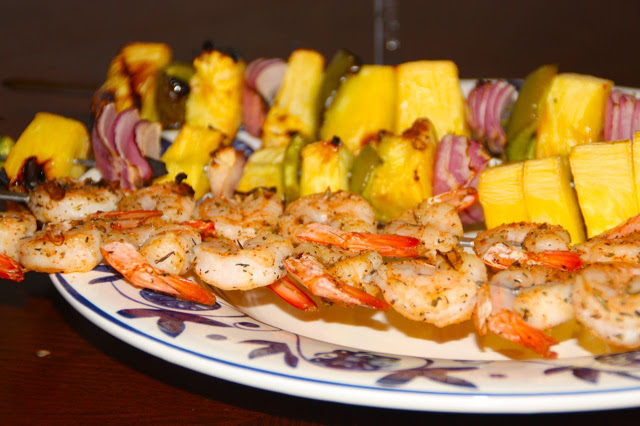 Grilling season is in full swing at our house. It's so nice not to heat the house up with the oven every night. Especially when it's 90 degrees outside. I am trying to think beyond my regular grilling go-to meals, and these cajun shrimp added a little excitement–and spice–to our dinner table. They are great served up with fruit and veggie skewers and some rice. Keep these in mind for your next backyard BBQ!
Cajun Seasoning:
1/2 tsp kosher salt
1 tsp garlic powder
1/2 tsp black pepper
1/2 tsp onion powder
1/2 tsp cayenne pepper
1/2 tsp oregano
1/2 tsp thyme
Mix all the seasonings together in a seasoning shaker or a ziploc bag. Feel free to double/triple the recipe to save for later in your spice cupboard.
Shrimp Skewers:
1- Oil the bars of your grill. Preheat gas grill to medium heat.
2- Place desired amount of raw, uncooked shrimp (I used peeled, de-veined, tail-on shrimp) in a gallon size ziploc bag.
3- Add enough cajun seasoning to lightly coat all the shrimp (it will take more or less depending on the size of your shrimp and the amount you are going to cook). Close and shake the bag to coat.
4-Skewer* the shrimp through the body and the tail so that they will lay flat on the grill.
5-Place skewers on the grill and cook for 2 min. each side, or until the shrimp are opaque.
Enjoy!!
*Remember if you are using wood skewers to soak them in water for a few minutes so that they don't burn on the grill. Also, if you are using metal skewers…..don't touch them with your bare hands!!! They are HOT!!!
Source: seasoning is an adaptation from allrecipes.com