We're big fans of Chocolate Chip cookies. Bigger the better, right? This cookie is so scrumptious, and… you can't go wrong with a Martha recipe. It's crisp on the outside and chewy on the inside. It'll be a while until I make cookies any other way…
Also, don't be afraid. Pull out your trusty cast iron skillet. It makes the edges so crispy!
Cast Iron Chocolate Chip Cookie
Ingredients
2 cups all purpose flour
1 teaspoon baking soda
1/2 teaspoon salt
3/4 cup (1 1/2 sticks) unsalted butter, softened
1/2 cup granulated sugar
3/4 cup packed light brown sugar
1 large egg
2 teaspoons of pure vanilla extract
1 1/2 cups chocolate chips (9 ounces)
Directions
-Preheat oven to 350 degrees.
-In a medium bowl, whisk together flour, baking soda, and salt; set aside. In the bowl of an electric mixer fitted with the paddle attachment, cream butter and sugars until mixture is light and fluffy, about 2 minutes.
-Add egg and vanilla; mix until they are fully incorporated.
-Add flour mixture, and beat until just combined.
-Stir in chocolate chips.
-Transfer dough to a 10-inch ovenproof skillet (I sprayed mine with just a little cooking spray), and press to flatten, covering bottom of pan.
-Bake until edges are brown and top is golden, 40 to 45 minutes. Don't overbake; it will continue to cook a few minutes out of the oven. Transfer to a wire rack to cool in pan, 15 to 20 minutes. Cut into wedges.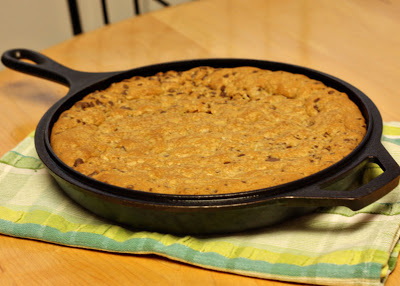 This cookie would taste great with some Vanilla Ice Cream and Chocolate Sauce. Yum!