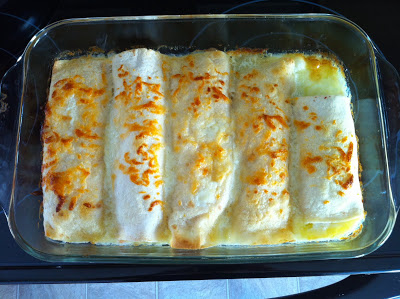 I discovered the recipe for these enchiladas while browsing Kevin and Amanda's blog. It is simple and very filling!
Ingredients:
1 tablespoon butter
1, 8 oz. package cream cheese, softened
1 can Rotel tomatoes and green Chilies, drained (mild or hot)
2 cups chopped, cooked chicken
5-6 (8″) flour tortillas
2 cups mozzarella cheese, shredded
1/2-1 pint whipping cream
1. Preheat oven to 350 degrees. Using non-stick cooking spary, coat the bottom and sides of a 9×13 baking dish.
2. Melt butter in a large skillet. Add rotel and cream cheese. Stir constantly until cream cheese melts.
3. Add chicken to cream cheese and rotel mixture. Stir until incorporated.
4. Spoon chicken mixture into each tortilla until evenly dispersed. I find that I can fill 5 to 6 tortillas without being "skimpy."
5. Roll up tortillas and place seam side down in the baking dish.
6. Sprinkle with cheese and then drizzle whipping cream on top.
7. Cover pan with foil and bake at 350 degrees for 30 minutes. Remove foil and continue baking for 15 more minutes, until top is golden brown.