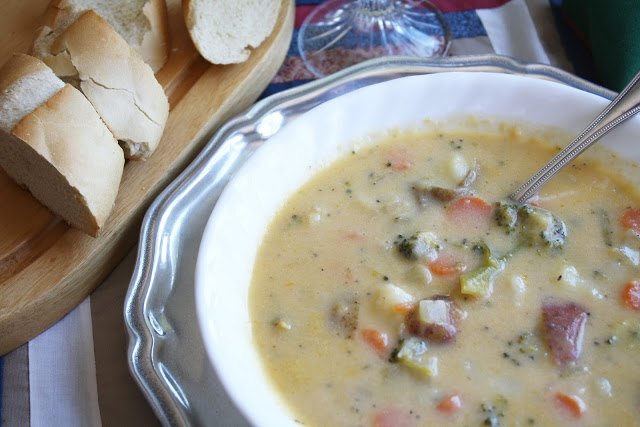 WOW! This is some good stuff! I found this on pinterest! (ofcourse) It's easy to mix all together and the ingredients are items that I am sure you already have on hand. REALLY- you have to try this! Its cheesy and yummy, and belly filling, and comforting, and scrumptious, and you can't stop eating it! Bake up some crusty bread and, wow! What else can I say? I will tell you that I doubled just about all the listed ingredients (except the cheese) to feed my family .There are six people in my family and everyone got 2nds! Also, I changed a couple of the ingredients to fit our likes.
2 TBSP butter
1/2 cup onion, chopped
1 cup carrots, thinly sliced
1 stalk celery, finely chopped
1 TBSP. garlic, minced
4 cups chicken broth
5-6 red potatoes, washed and diced into quarter sized pieces.
1 TBSP flour
1/2 cup water
2/3 cups milk
2 cups broccoli, sliced
2 cups shredded cheddar cheese
Melt the butter in a large pot and add the onion,carrots, and celery. Saute over medium heat until the vegetables are tender and stir often. Add the minced garlic and cook for an additional 2minutes, stirring often. Add the chicken broth and potatoes and bring the mixture to a boil. Stir often so the mixture doesn't stick to the bottom. Cook until the potatoes are tender. In a separate small bowl, mix the flour and water then add this to the soup. Stir well until the soup thicken a bit. Add the milk and broccoli. Sir well, to prevent sticking. Cook until the broccoli is tender. Stir in the cheese and let it melt well, constantly stirring. SERVE!!!
recipe adapted from luluthebaker.com