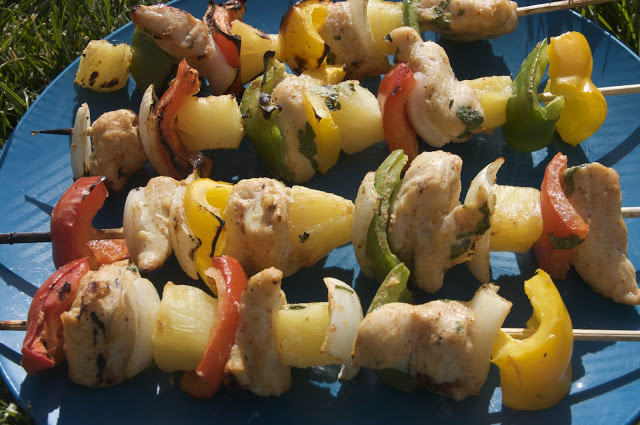 I love to grill in the summer time! Who wants to bake in a kitchen when you can cook in the open air?? AND when you're in the heat of summer, who wants a heavy meal? Not me, friend!
These hit the spot with their fresh, light mix of fruit, vegetables, and meat.
Ingredients:
20 oz can of Pineapple Chunks in juice (fresh pineapple is awesome if you can get it)
1 teaspoon ground Cumin
1 teaspoon ground Coriander
1 garlic clove, crushed
1 teaspoon chili powder
1 teaspoon salt
2 Tbsp plain yogurt*
1 Tbsp chopped fresh Cilantro
few drops of orange food coloring (opt) –I didn't use it.
1.5 lbs skinless, boneless Chicken Breasts (or tenderloins) — about 2 cups
1 Red Bell Pepper**
1 yellow Bell Pepper
1 green Bell Pepper
1 Onion
Cherry Tomatoes
1 Tablespoon Vegetable Oil
12 Kebab Skewers
1. Drain the canned pineapple into a large bowl and reserve the chunks, covered, in the fridge. If you use fresh, you should juice enough to get about 1 Cup and chunk the rest.
2. In pineapple juice, blend together the cumin, coriander, garlic, chili powder, salt, yogurt, and food coloring (if you use it, I really don't know why you would, but hey. To each his own, right?) The actual recipe says that you should mix all the spices together separately and then add them to the pineapple juice, but I really hate doing dishes and mixed them all together in one bowl. It worked just fine.
3. Cut the chicken into cubes and add to the yogurt spice mixture. Marinate it in the fridge for 1.5 hours.
4. Cut your veggies into chunks.
5. Arrange the chicken, peppers, onion, tomatoes, and pineapple on your kebabs.
6. Brush the kebabs with oil and cook on a preheated, Medium heat, grill, turning every 4 minutes or so, until the chicken is cooked through and the veggies are tenderish. I like mine a little crispy and it took around 10 – 15 minutes.
Serve with rice and salad.
*I don't cook with plain yogurt regularly and wasn't about to go buy some for 2 Tbsp worth, so I used sour cream and they tasted fabulous! I like sour cream anyway!
**I imagine that since this is squash season, this would taste GREAT with a variety of squashes on the kebab. Mix it up and let me know how it turns out!