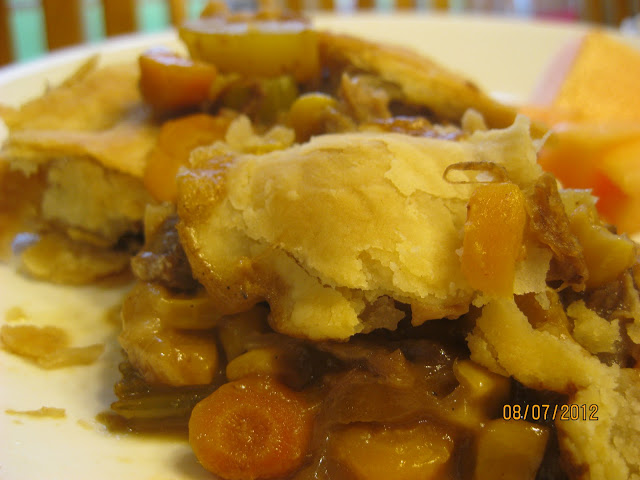 This is one of those oh, so, yummy, homestyle fully delectable goodness dishes. It is actually my oldest daughter's recipe and I only acted as a "Sous Chef" 🙂
Ingredients:
1/4 cup (4 TBSP) Butter
1 tsp. Olive Oil
1 medium onion chopped
2 cloves garlic, minced or 2 tsp garlic powder
6 stalks celery chopped
1 cup chopped carrots or more to your taste
4 medium potatoes peeled and cut into 1 inch pieces (we like Red Skin Golden Potoatoes)
1 15oz can corn or 1 1/2 cups frozen or fresh
–Add 1 cup peas or broccoli with other veggies if desired–
1# leftover pot roast, (we used flank steak cooked in the crockpot) chopped or shredded
1/4 cup flour
2 1/2 – 3 cups Beef Stock
1/2 cup milk
salt and pepper to taste
Pie Crust – recipe below or use pre-made, refrigerated crust – enough for a two crust pie
1. Heat Olive Oil Medium – Medium high and saute onion, celey, and carrots for 5 minutests
2. Add garlic and potatoes and cook for another 5-10 minutes
3. Add corn and butter – stir until butter is melted
4. Add roast and stir until blended
5. Stir in flour and cook for a few minutes to remove the raw flour taste.
6. Add Beef Stock and milk — bring to a boil until the sauce has thickened.
7. Taste now add salt and pepper as needed
8. Pour into a 13×9 pan and top with pie crust. "Poke" a few holes into the crust for steam to escape.
9. Bake at 400 for 30-40 minutes.
Pie Crust Recipe
2 cups flour
1 tsp salt
1/2 cup shortening
1/4 cup (4 TBSP) butter
6-8 tsp ice water (more if needed to make a soft ball of dough)
1. In medium bowl mix flour and salt together
2. Cut in shortening and butter
3. Add ice water and stir with hands or wooden spoon until a soft dough forms
4. Roll out on floured surface into desired shape
Enjoy!
Source: Jessica