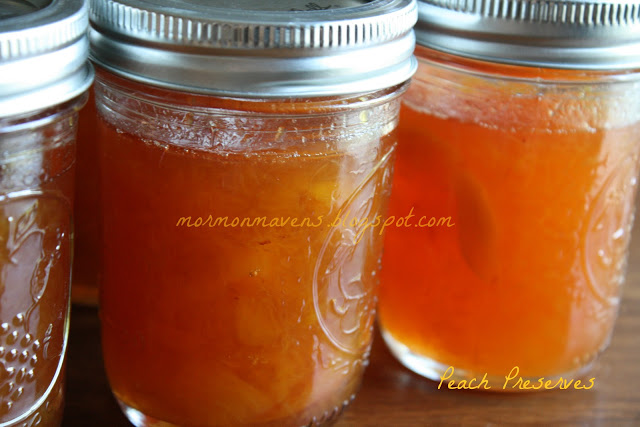 We moved two weeks ago into a new home on the Eastern Shore of Maryland. The previous owner was an outdoor lover and put lots of time and care into her beautiful yard. When we were moving into the home I glanced out the kitchen window and saw our new peach tree was OVERLOADED with peaches! Into my wanna be domestic mind came one thought, "Oh! I get to make peach preserves!" Well, two weeks later as the peaches started to fall off the tree and the neighbors started coming over and asking if they could have some, I remembered I wanted to try my hand at making some preserves. So, I stopped unpacking and arranging the house and set to making preserves. Which, I have NEVER done before! Long story short, it wasn't hard! It went really great! (Aside from the fact that I had the heat turned up too high at one point and it popped all over my arm while I tried to stir the concoction! That burned like crazy! But, I'm okay now.) This recipe is scrumptious! And we have probably gained a few lbs this week because we can't stop eating it! That probably has something to do with all the sugar in this, but I keep telling myself its the fresh peaches…they are so healthy for you! This is my recipe. Its a combination of at least 3 or 4 I have read in preparation for this. And believe it or not, I didn't add as much sugar as some of the recipes suggested!
12 cups peaches, fresh whole peaches, peeled and chopped, about 20 peaches size of tennis ball
3 TBSP. lemon juice, freshly squeezed, no seeds please
8 cups white granulated sugar, for every 3 lbs of peaches use 3-4 cups of sugar
1 box of pectin
12- 1/2 pint sterilized canning jars and lids, and I also used 2 pint sized jars for immediate use.
tongs, to remove the jars from the canning process in the hot pot of water
wide mouth funnel, but I didn't have one and all went well
The first thing I did was set a big pot of water on the stove to boil. Sterilize everything! Then set to dry on a sterile rack.
Then boil some more water and get all the peaches washed while waiting for the water to boil. I filled the sink with the peaches and then filled it with water. Washed them off really well again as I was draining the sink and rinsing it out. Place all the peaches in a huge bowl and then one by one cut an "x" across the bottom of the peaches and placed them into the pot. Add about 6-8 peaches at a time and let them boil for about 1-2 minutes. Then take them out and place them into another large bowl. Add more peaches to the pot of boiling water.
The purpose of this is to loosen the peach skin so you can peel it right off! It works pretty well. Although, you might not find it necessary if you just want to dig in and start peeling away with your knife. But, I think the boiling method helps you save more of the peach flesh when peeling.
After you have seeded and peeled and chopped all the peaches,you should do a bit of clean up and get out the sugar. Add 8 cups of white granulated sugar to the peaches in the bowl and stir really well. Let it sit for about 30 minutes to an hour. Stir periodically to get the settled sugar off the bottom.
Add the peach and sugar mixture to a big stock pot and stir in the pectin. Bring the mixture to a boil then lower it as needed to keep yourself from getting burned as you stir constantly to keep it from sticking. Boil and reduce this while stirring for about 30 minutes, maybe longer if it needs to thicken more. Cut off the heat. Funnel the peach preserves into the jars and tighten the lids.
Bring another pot of water to boil that will be deep enough for your jars to sit in. Water should reach the lids. Add about 5 jars at a time and boil for about 10 min per group. You should hear the lids popping. That is the suction being created! Remove and set aside on a rack to cool. I even heard the popping after the jars had been removed! It was like an applause for a job well done!!!!
We immediately spooned some hot peach preserves over ice cream and thought we had died and gone to heaven. This stuff is divine!