Sometimes I just struggle to find new, tasty ideas for breakfast. Do you have the same problem?
I grew up on cold cereal, and still love it for Sunday night snacking. Well, any night would work for me, actually. But over time I have let go of my cereal tradition in lieu of more healthy options like oatmeal or smoothies. Once in a while it's eggs and bacon, but that usually ends up being an early lunch after an hour of yoga followed by an hour of Body Pump.
This fried rice recipe really turned out to be quite delicious. Thank you to Sara at Our Best Bites, who was the source for this recipe.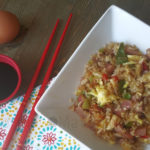 Hawaiian Fried Breakfast Rice
2019-10-03 07:08:26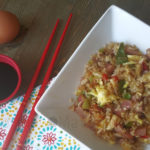 Ingredients
4 t. extra virgin olive oil
1/2 c. chopped red onion
1 bunch green onions, chopped (chop all but keep the green tops separate)
1 t. minced garlic
1 small red bell pepper, minced
3 cups leftover white rice
1 c. chopped fresh pineapple
1 c. chopped Spam (or bacon or ham)
3 T. low sodium soy sauce
2 t. brown sugar
1/2 t. ground ginger
4 eggs for scrambling
Salt & pepper to taste
Instructions
Heat the olive oil over medium heat in a large skillet. Add the red onion, firm ends of the green onions, garlic and bell pepper. Saute until the onions are fragrant and red peppers are just tender.
While the vegetables are cooking, whisk together the soy sauce, brown sugar, and ginger in a small bowl. Set aside.
Add the rice to the skillet, stirring to combine, until heated through. Add the Spam and cook until that is heated through. Add the soy sauce mixture and stir to combine.
Next add the green parts of the green onions, and the pineapple, stirring to combine. Season to taste with salt & pepper. Cover, turning heat to low to keep warm.
In a separate pan, cook the eggs. Add eggs to rice mixture and serve.
Adapted from Our Best Bites
Mormon Mavens https://www.mormonmavens.com/