Well September is National Breakfast Month and on the 26th it's National Pancake Day so we are sharing a re-make of this recipe that was originally shared by Niki, a former Maven. This baby got almost 500,000 views! And lots of great comments.
If your family is prone to milk allergies, this is a perfect option when they are asking for pancakes for breakfast. Just remember to go for the oil option rather than butter or margarine.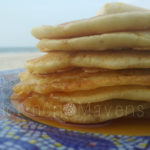 No Milk Pancakes
2019-09-13 07:58:13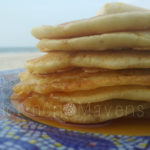 Ingredients
2 c. all-purpose flour
2 T. oil, butter, or margarine
1/2 t. salt
4 t. baking powder
2 T. sugar
2 cups water
2 eggs
1 T. Cream of Coconut (opt. I just added it for kicks)
Instructions
In a large bowl, mix water and eggs. If using butter/margarine let it cool slightly so it doesn't cook your eggs.
In a separate bowl, mix your dry ingredients, then add to the wet ingredients and stir until combined but do not over mix. Pancake batter should be lumpy.
Using a 1/4 c. measure, drop batter on a hot griddle or skillet. You can use a little coconut oil to grease the griddle,. Cook until bubbles appear and edges look dry. Flip and cook the other side until golden.
Adapted from Niki Lewis
Adapted from Niki Lewis
Mormon Mavens https://www.mormonmavens.com/