I am so happy to share this recipe with you today because I have finally found a way to get myself some orange, glazed scones and won't have to drive to the next town to get them at Panera Bread!
As I was looking through my Winter 2017 Magnolia Journal, I came across this recipe and almost did a happy dance! They look so much like Panera's. But honestly, they taste better! And I had no idea scones would be so easy to make.
And yes. I did say 2017. I tore the recipe out of the magazine months later and filed it in my Meal Planning binder under RECIPES TO TRY. I have many more of those. So stay tuned.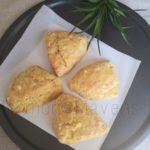 Orange Zest Scones with Maple-Orange Glaze
2019-09-26 09:57:01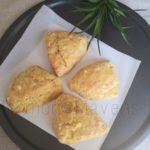 Ingredients
2 c. all-purpose flour
1 1/2 t. baking powder
1/2 t. baking soda
1/2 t. salt
1 egg
3/4 c. sour cream
1/2 c. sugar
1 t. orange zest
3/4 c. butter, cut into squares & frozen
1 recipe Maple-Orange Glaze (recipe below)
Instructions
Preheat oven to 400 degrees F. Line a baking sheet with parchment paper.
Step 2
In a large bowl stir together flour, baking powder, baking soda, and salt. In a small bowl lightly beat the egg, then whisk in sour cream until completely blended.
Step 3
In another small bowl combine sugar and orange zest. Use the back of a spoon to work the zest into the sugar until well mixed, then stir into flour mixture. Add butter to the flour mixture and blend using a pastry blender or your fingers to work it into a pebbly mixture. Stir in the sour cream mixture until dough starts to form a ball. Divide the dough in half.
Step 4
Place one half of the dough on a lightly floured surface and press out to a 6″ circle, about 1 inch thick. Cut circle into six triangles and place 1 inch apart on the baking sheet. Repeat with the second half of the dough.
Step 5
Bake 15 minutes or until golden. Cool on the baking sheet for 5 minutes, then transfer scones to a cooling rack. Make glaze while the scones are cooling.
Notes
Maple-Orange Glaze–In a medium bowl stir together 1 3/4 c. sifted powdered sugar and 1 t. orange zest. Stir in 3 T. melted butter, 3 T. orange juice, 1 t. vanilla, and 1/2 t. pure maple syrup until smooth. Spoon over cooled scones.
Adapted from Magnolia Journal
Adapted from Magnolia Journal
Mormon Mavens https://www.mormonmavens.com/