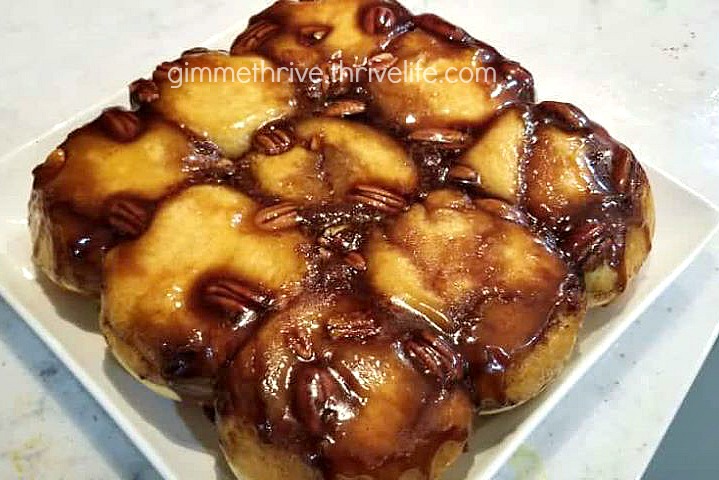 Buns of Iron?
Okay, that was pretty lame. But I couldn't help it.
I've never made sticky buns before but when I saw a recipe making them in a cast iron skillet I knew I had to try it. I love my cast iron cookware and use it all the time. I especially love finding recipes where I can bake with it.
I followed the original recipe directions and made 9 large buns, but next time I will make smaller ones. I think the sticky-to-bun ratio is better that way. I also used my Thrive Life Country White Dough Mix for the bread. Use any basic bread dough recipe you like. Or maybe you love the frozen roll dough! That's even easier than using a mix. Whatever works for you! My dough mix recipe is for one loaf's worth of dough.
I used a 9″ square cast iron skillet (my grandmother's). So to make it mathematically easy, I'll divide the dough into 16 equal pieces and do a 4×4 arrangement.
Do you like cast iron? If so, what's your favorite piece?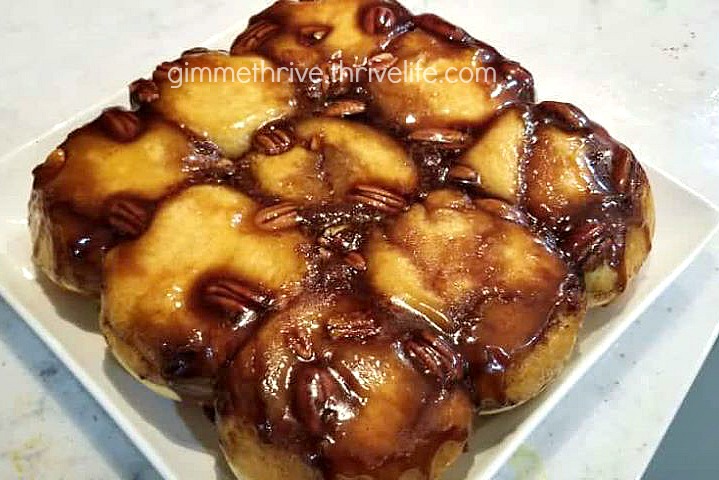 Sticky Buns in Cast Iron
2018-08-11 05:45:13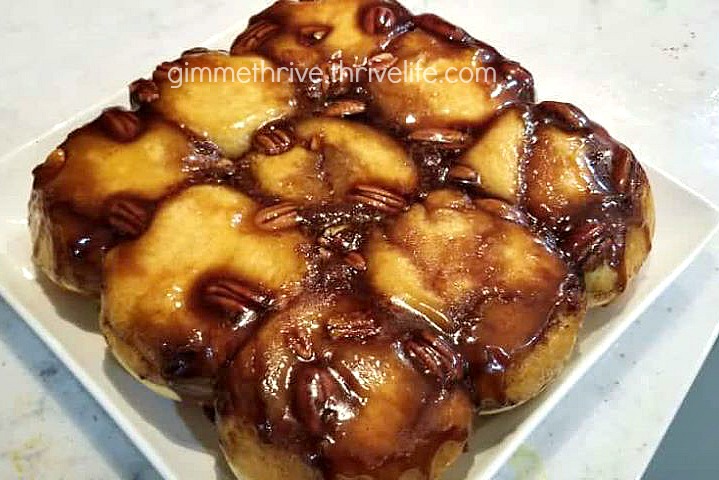 Bread, butter, sugar.....like seriously....do I need to say more?
Ingredients
The Bun Dough
1 c. warm water
2 tbsp. warm water
2 1/4 tsp. Active Dry Baker's Yeast
2 tbsp. honey
3 3/4 c. THRIVE Country White Dough Mix
The Sticky Stuff
1/2 c. butter, softened
1/2 c. brown sugar
1 tsp. Ground Cinnamon
3 tbsp. honey
1 pn. salt
1/4 c. pecan halves
Instructions
Prep the Dough
Add the water, yeast, and honey to the bowl of a stand mixer equipped with the dough hook. Slowly add in the dough mix. Once it's all incorporated, knead in mixer for about 5 minutes.
Spray a medium bowl with cooking spray. Form the dough into a ball and place in the bowl, turning to coat it with the cooking spray. Cover and allow to rise for about 40 minutes.
When dough has doubled in size, punch it down and divide it into 9 pieces (or 16 as mentioned in the description). Set aside while you prep the sticky stuff.
Prep the Sticky Stuff
Combine all but the pecans in a medium bowl and stir well to combine everything.
Spread this onto the bottom and up the sides of the cast iron skillet.
Place the pecan halves evenly over the sticky stuff. (If you want it to be pretty, make sure you have the flatter side of the pecan facing up.)
Dough + Sticky Stuff
Take the dough pieces and roll into balls. Place these evenly over the sticky stuff. Cover and allow to rise about 30 minutes.
Preheat oven to 375 degrees.
Bake the skillet, uncovered, for 20-30 minutes or until rolls are golden and dough is cooked through. Allow to sit for 15 minutes once you remove it from the oven.
Place a large plate upside-down over the skillet and carefully flip so that the rolls release onto the plate. Enjoy!
Notes
Makes 9 large rolls, but you could make smaller rolls. I would make 16 for my square skillet.
Adapted from Rie McClenny
Mormon Mavens https://www.mormonmavens.com/