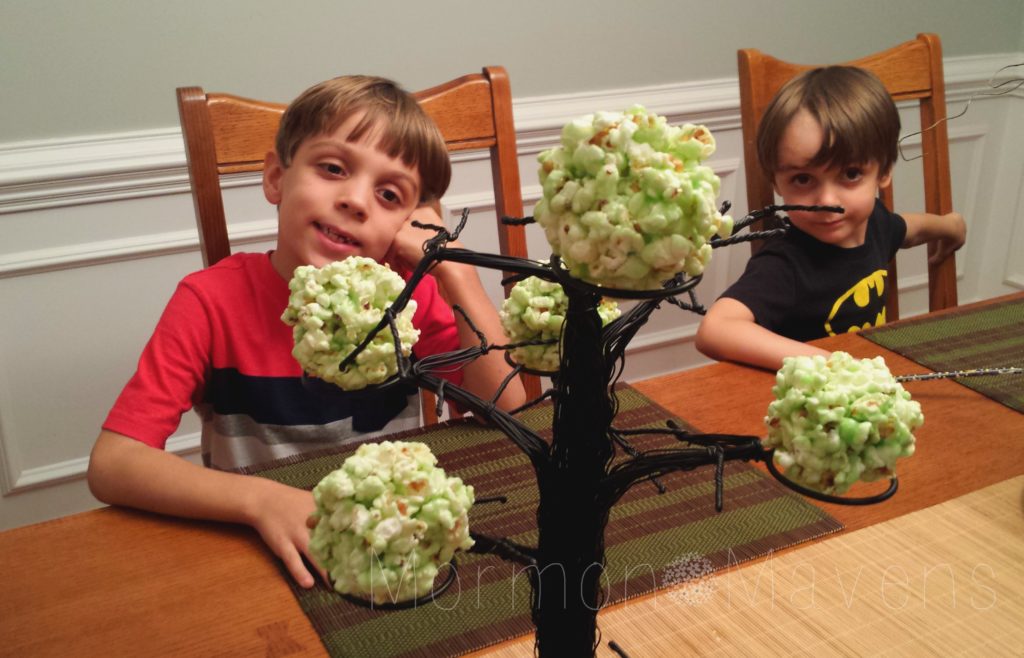 Traditions have meant a lot to me for as long as I can remember, but I haven't always been that great at starting continuing them. I can sure start one, but it's the hardest thing for me to continue. I remember a few from my childhood–oyster stew for Christmas Eve (for years we did this in our family until one day we realized that only one or two of us even liked it that much), opening gifts on Christmas Eve (still do that one!)—Trick or Treating at Halloween in the neighborhood with costumes from Mom's Costume Box, etc. This time of year really gets my mind spinning on what traditions my family expects on Christmas Eve–full from scratch Mexican meal, opening gifts. doing stockings, EVEN FOR THE ADULTS–and other things like decorating for Fall (my favorite season). Hmmm….that's not very many traditions. I need some more.
So a couple of days ago I was at the store picking up some things for dinner and I realized that my grandsons would be at the house that day and I needed to give them their Halloween treats! I am trying to start that tradition with them, since I am not with them for the Trick or Treating. So I grabbed a couple of different small bags of candy and I was trying to think of something else I could do that would be slightly healthy and I remembered something my Mom did for us when we were younger–homemade popcorn balls! I loved those and did them a few times when my girls were little. I knew it was time for me to start that tradition with my grandkids, so I picked up some microwave popcorn, some orange and green Jell-O and some tiny marshmallows, some Halloween goodie bags and pencils.
It was so much fun to share those popcorn balls with my boys!
Traditions are fun and bonding and build great relationships in your family. So today, think about some traditions that you are already doing and some new ones that you can add. And they don't have to be built around holidays. Some of the best are things you do together randomly that the kids consider as traditions, because they will certainly remind you to do them again!
I know it's Mormon Morsel Sunday, but how about I share my Marshmallow Popcorn Ball recipe with you today? Maybe you can make some for your Trick or Treaters…
Marshmallow Popcorn Balls
2016-10-29 14:49:49
Ingredients
6 T. butter
3 cups tiny marshmallows
1/2 of a 3-oz. pkg of Jell-O, in flavor of choice (3 T.)
3 quarts unsalted popped corn
Instructions
Place popped corn in a large bowl and set aside.
In medium pan, melt butter over medium heat. Add marshmallow, stirring until melted.
Blend in Jell-O, and pour over popcorn, mixing well.
With buttered hands, form popcorn into balls.
Notes
Have fun with different colors of Jell-O, depending on the occasion. Hey, let the kids help make the popcorn balls--you shouldn't have ALL the fun!
Mormon Mavens https://www.mormonmavens.com/