So it's fall. Yeah, I know. It's supposed to be pumpkin everything, right?
Well, for my money, nothings says fall like apples….warm and spiced. So cozy.
And although my favorite apple dessert is Apple Crisp (my favorite recipe for that coming soon!) I'll go for just about any baked apple thing. And since I had a bunch of small apples that were past their prime, I figured this one was a good one to try.
Next time, I'll try maple syrup in place of the honey.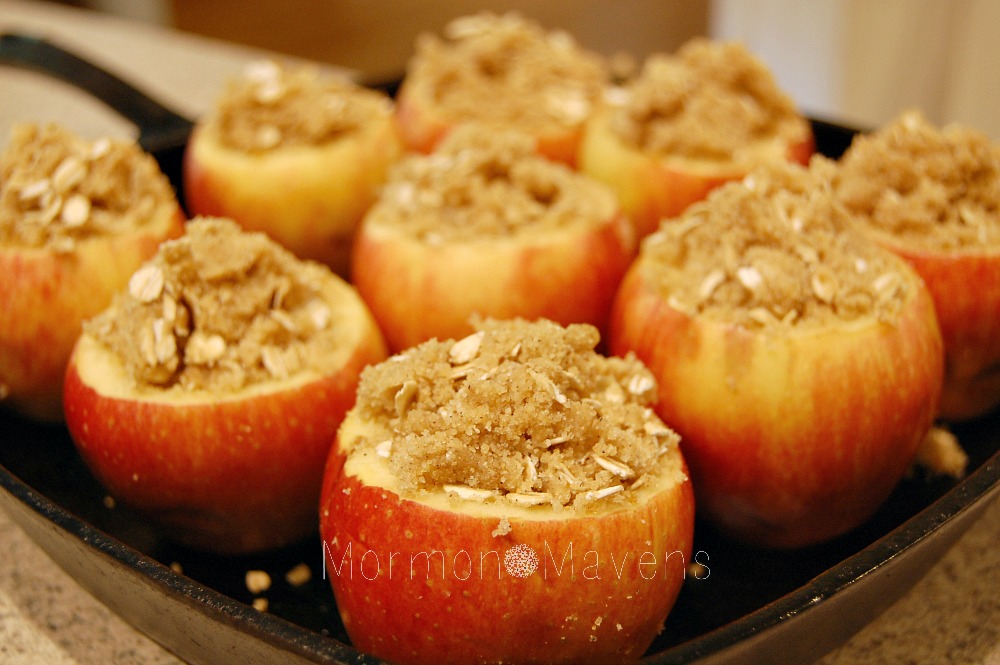 Autumn Baked Apples
2016-10-17 10:31:56
A cozy dessert for crisp fall days.
Ingredients
6 medium or 9 small apples
1 1/2 cups brown sugar
2/3 cup old fashioned oats
2/3 cup all-purpose flour
8 Tbsp. butter, softened
1 tsp. cinnamon
1/4 tsp. allspice (optional)
1/8 tsp. nutmet (optional)
1/4 tsp. kosher salt
4 Tbsp. honey or real maple syrup
Instructions
Preheat the oven to 350 degrees. Grease a skillet and set it aside.
To prep the apples, cut off about 1/2" from the top. You can also cut a tiny amount off the bottom if you want to "level" the apples. Use a spoon to scoop out the middle, including the core. You can discard this part.
Place the apples in the skillet .
In a bowl, mix together the sugar, oats, flour, spices, and salt. Add the softened butter and work the whole mixture together.
Divide the butter mixture between the apples, filling the cores. Drizzle honey or maple syrup over the apples.
Cover the skillet with aluminum foil; bake for 15 minutes. Then uncover the skillet and bake an additional 15-20 minutes or until the apples are cooked through.
Allow to cool. Serve plain or topped with vanilla ice cream or whipped cream.
Adapted from Dishing Delish
Adapted from Dishing Delish
Mormon Mavens https://www.mormonmavens.com/