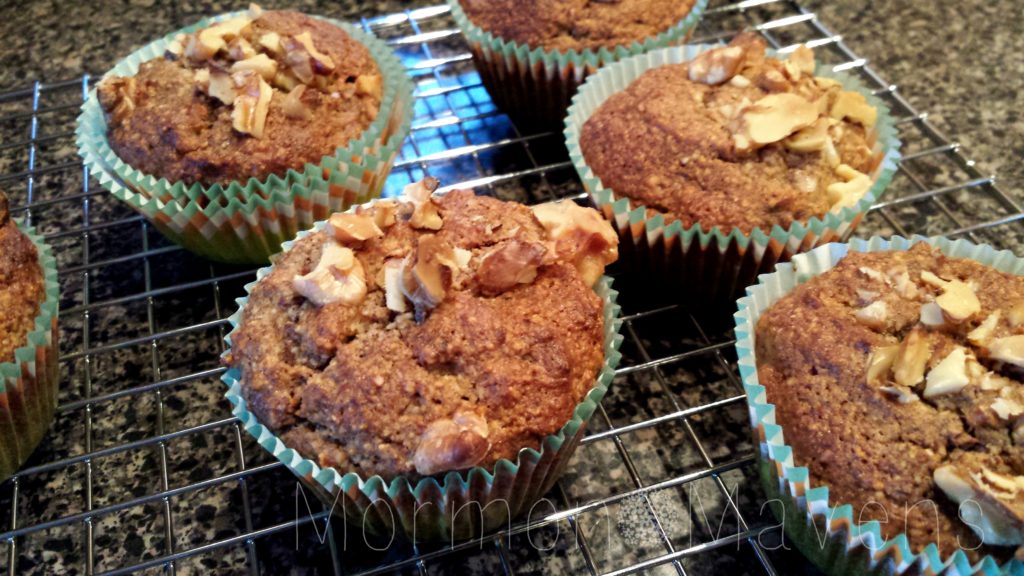 No, I have not exactly jumped on the Paleo band wagon, but I am kind of running along beside it. We are trying to eat healthier around here and so I have been checking out recipes from friends, Facebook, Google, Leanne Ely and Jeff Reagan. So if you have any tried, true and tasty recipes, feel free to share on our Facebook Page . I will be grateful.
I found this recipe in a packet given to me by a friend who ordered one of those Paleo programs from an infomercial and she never used it–thought she would sell it on eBay, but ended up giving it to me because she was tired of having it around the house. So I have sifted through each of those cards and found a few that I think are doable. I thought these muffins were pretty tasty on their own! And then I found another recipe I had been wanting to try for a flavored butter spread and made that at the same time. They were great together, let me tell you. But you will have to wait until next week for that one.
Banana Bread Muffins (Paleo)
2016-11-02 14:12:40
Ingredients
1 1/2 c. almond flour
2 T. ground flaxseed
1 t. ground cinnamon
1/2 t. baking soda
1/2 t. baking powder
pinch of nutmeg
pinch of salt
2 very ripe bananas, mashed
2 eggs, beaten
1 T. honey
1 T. olive oil
1/2 t. vanilla extract
1/3 c. chopped walnuts, plus extra for garnish
Instructions
Preheat oven to 375 degrees F.
Place muffin cups in muffin tin and set aside.
In large bowl, sift together all the dry ingredients, except the nuts.
In a small bowl, combine all the wet ingredients, including the bananas--mix well. Pour this mixture over the dry ingredients. Add in chopped walnuts, stirring until combined.
Fill the baking cups about 3/4 full--I used a cookie scoop.
Sprinkle a few more chopped walnuts on each muffin before baking.
Bake muffins for 21-23 minutes.
Serve warm with your favorite spread (original recipe suggests coconut oil).
Adapted from PaleoBurn Fat Burning Cookbook
Adapted from PaleoBurn Fat Burning Cookbook
Mormon Mavens https://www.mormonmavens.com/