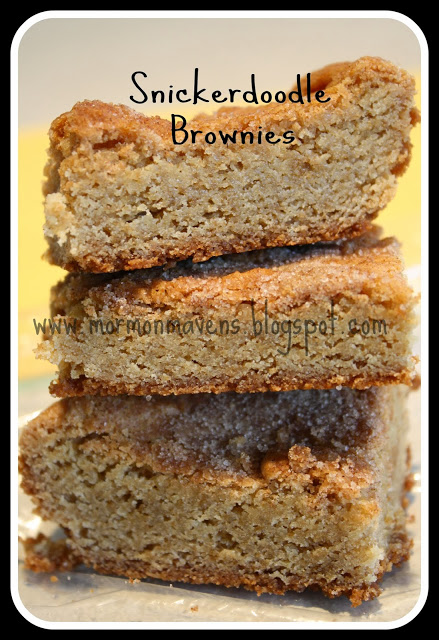 So, you should know, that unless you are prepared to pretty much eat the whole pan of these you might not want to make this recipe! You think I'm kidding!? These have the perfect texture, a little chewy and just the right amount of sweet. This is definitely going down as a family favorite! I did find this recipe on "pin-interest". (That's how my mom pronounces it. LOL!) This is a great fall dessert. The cinnamon and sugar are warm and cozy.
2 2/3 cups all-purpose flour
2 teaspoons baking powder
1 teaspoon salt
2 cups packed brown sugar
1 cup butter, at room temperature
2 eggs, at room temperature
1 Tablespoon vanilla
2 Tablespoons white sugar
2 teaspoons ground cinnamon
Preheat oven to 350 degrees. Lightly grease a 9 x 13 inch baking pan.
Get out three separate bowls.
1-In a medium bowl, whisk together the flour, baking powder, salt and set that aside.
2-In small bowl combine the white sugar and cinnamon, and set that aside.
3- n a large bowl, mix together the butter, brown sugar, eggs and vanilla until smooth. Add the flour mixture to the egg mixture and beat until well blended.
Spread the mixture into the 9×13 baking dish.
Sprinkle the sugar cinnamon mixture evenly over the batter.
Bake for 25-30 minute or until it springs back at touch.
Let the brownies cool on a wire rack for a bit and serve.
original recipe from Dozen Flours