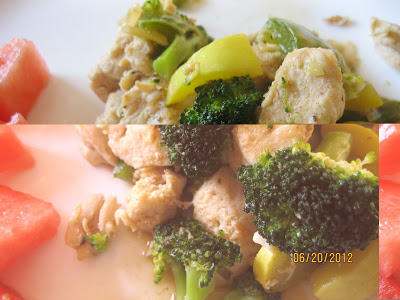 Mormon Mavens Blog Spot
This is one of those recipes that came to "be" out of desperation — when I was out of other things for a recipe. It has become a go-to recipe for us – Even our "I don't really like chicken people" love this. It is on the table from start to finish in less than 30 minutes. Use the leftovers in a wrap – Yummy!
Note: Some of the ingredients are "to taste"
Ingredients:
1 Tbls Coconut Oil
7-10 Chicken Tenderloins chunked
2-3 cloves garlic or equivalent in Garlic Powder
1/2 – 1 medium onion chopped
2 cups broccoli florets
2 zucchinis cut in half lengthwise and sliced
Lemon Pepper
1. Melt Coconut Oil in large frying pan, add chicken
2. Fry chicken for 4-5 minutes – add a little water if necessary to keep from burning
3. Add garlic, peppers and onions – saute/fry for 5 minutes or until chicken is almost done
4. Add Broccoli and Zucchini with a little water for steaming and to keep from burning.
5. Sprinkle entire pan with Lemon pepper
5. Cook for additional 4-5 minutes or until broccoli is tender.
Enjoy!
Source: A Jennie original