My kids love chocolate milk. I mean, whose kid doesn't? But let's face it, milk is expensive. So to save a little dough I started keeping chocolate milk (made with non-instant powdered milk) in the fridge.
1 quart warm water*
3/4 cup non-instant dry powdered milk
1/2 cup chocolate milk mix (We prefer Nesquik.)
Mix the dry ingredients in the bottom of the pitcher, then stir in the warm water. Chill for at least 3 to 4 hours before serving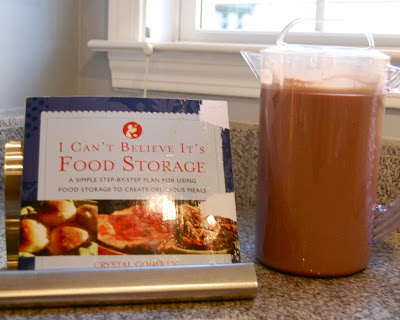 No one has complained that it doesn't taste as good as fresh milk (just don't let them see you mixing it!). Go ahead and double it; it's gonna disappear fast.
*Crystal Godfrey claims that the powder will dissolve easily in any temperature water. I don't like to argue with the experts, but I have been much more successful mixing it with warm water and then refrigerating.
Source: I Can't Believe It's Food Storage