My kids love Charlie and Lola, a couple of cute British kids that used to come on the Disney Channel. We own pretty much every book and DVD on those two. One of Charlie and Lola favorite drinks is pink milk.
I found a recipe which involved ice cream, milk and strawberries, i.e., ingredients I did not have. So I adapted the chocolate milk recipe below. For pink milk, simply substitute strawberry powder for the chocolate powder (and yes, I do prefer Nesquik).
Pink milk
1 quart water
3/4 cup dry powdered milk
1/2 cup strawberry milk mix
Whisk together dry ingredients in the bottom of a pitcher. Slowly add the warm water as you are stirring. Chill for at least 3 to 4 hours before serving.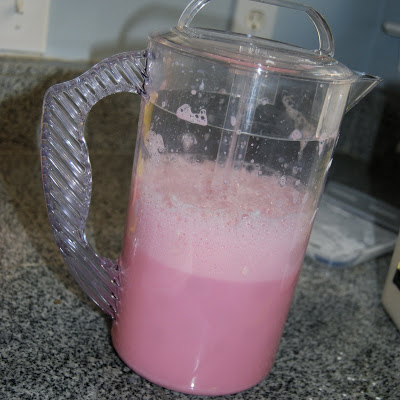 Adapted from: I Can't Believe It's Food Storage