I had been eyeing this cookbook for quite a while when I finally broke down and bought it this summer. I figured, "Hey, I started a recipe blog so I 'need' this for 'research'!" <ahem> Yeah, anyway, one of the reasons I really like it is because it's a compilation of favorite recipes from LDS sisters around the world. I always love getting people's favorite recipes–you know they're tried and true. I also like that with some of the recipes there are little personal tidbits from the recipe contributor, along with occasional personal photos. Somehow it really does seem like it IS your world's ward cookbook.
I love the colors and decor of this book….so spring-like, vibrant, alive.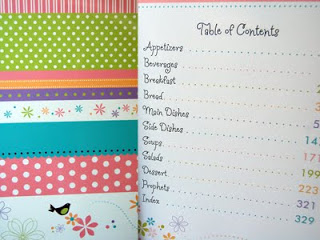 Inside cover shows the fun colors. Table of Contents (notice a category just for Prophets….favorite dishes from some of our latter-day prophets.)
Above, an example of one of the recipe category divider pages and a full page recipe photo. Mmmmm…..brownies. And speaking of drool……
I am a Carrot Cake Fanatic (and snob) so I am definitely trying this recipe to see if it REALLY is the best Carrot Cake ever (cuz if it is, that's one more item off my bucket list)
I'm a sucker for Cinnamon Rolls!
This book is 327 pages of mouth-watering recipes (well, maybe not the Hot Dog Casserole but we'll see since I'm trying that for lunch today….figured it might be a kid-pleaser). I paid full price for mine with no regrets, but you can get them on
Amazon used for as low as $14.95
(as of this posting).
I'll be sharing several recipe out of this book in the coming weeks and months, so be on the lookout!