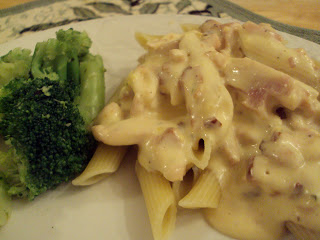 WARNING: This delicious high-carb, high-fat pasta dish will probably go straight to your hind end. But your taste buds will thank you. =)
Ingredients:
2T Butter
1 C diced ham
1 C heavy cream
2 egg yolks, beaten
1 C shredded mozzarella cheese
1/4 C grated parmesan cheese
1/2 tsp or more garlic herb seasoning
milk for thinning, if necessary
3 C Cooked Penne Rigate'
First of all: let me introduce you to my new best friend:
McCormick Perfect Pinch Garlic and Herb Seasoning. It's salt free, calorie free, and MSG free. I've added this to just about everything lately…mashed potatoes, mac and cheese, scrambled eggs…the list goes on…and includes this tasty dish:
Melt butter in a sauce pan and saute' diced ham until lightly browned. (You can skip this step if you're using leftover ham that has already been baked)
Add cream. Bring to a boil, remove from heat.
Add egg yolks, stir until well blended.
Add mozzarella and parmesan, stir until completely melted and creamy.
Sprinkle the garlic herb seasoning freely, to taste, of course. Incorporate well.
If you find your sauce too thick, return to low/med heat and add some milk, a little at a time until it reaches your desired consistency.
Serve over pasta or stir in pasta until sauce is evenly distributed.
So you may see in the introduction photo that I served this with broccoli. Well…that's how it started. THEN…I kind of did this number while I was eating: (Mmmmmm)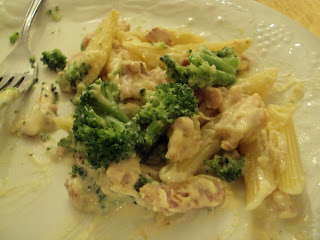 And THIS is what I did with the left-overs: (Yummmm)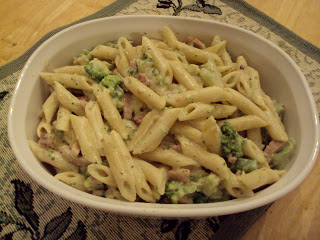 So…Moral of the story is: If you like broccoli, chop it up and add it in at the beginning with the ham. =)
Enjoy!