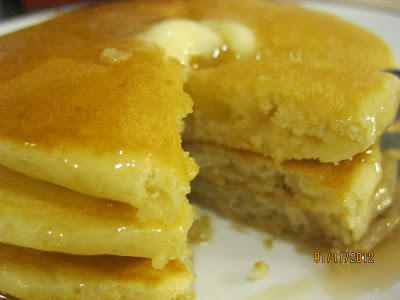 My oldest daughter is a fantastic cook. This is her recipe and I had so much fun making these with our grandson over Christmas that I had to post it. I have added a lower fat option with the original recipe.
Ingredients:
2 cups flour
2 tbsp sugar or honey equivalent
1/2 tsp salt
4tsp baking powder
2 eggs
1/2 cup vegetable oil or melted butter (substitute the oil with 1/2 cup applesauce and 2 tsp Olive Oil or use only the applesauce)
2 tsp vanilla
1 1/4 – 1 1/2 cups milk
1. Mix all ingredients until blended
2. Using 1/4 cup batter per pancake (can use more for larger pancakes) pour onto hot griddle or frying pan
3. Turn over when golden brown. Brown on other side and remove to platter.
4. Top with butter, syrup, jam, powdered sugar, applesauce etc.
Enjoy
Source: My daughter