My husband loves Chicken Alfredo. I rarely make it due to it's richness and HIGH calorie/fat content. I came across this recipe earlier this week and new I had to give it a shot.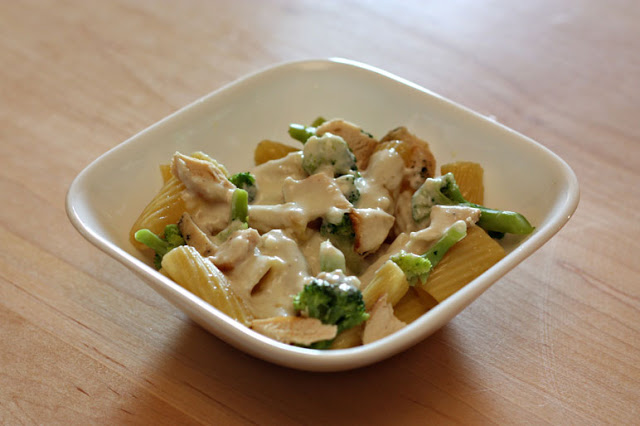 Creamy Garlic Alfredo Sauce
INGREDIENTS:
2 tablespoons butter
3 cloves garlic, minced
4 ounces cream cheese, softened and cut into 6 pieces (see note above)
1 cup milk (see note above)
3 ounces Parmesan cheese, grated (about 1 cup)
1/2 teaspoon ground black pepper
1/2 teaspoon salt, more to taste, if needed
DIRECTIONS:
In a medium pot or skillet, melt the butter over medium heat.
Add the garlic and cook for about 2 minutes, stirring constantly, taking care not to let the garlic burn.
Add the cream cheese, stirring with a whisk until the mixture is smooth. It will look curdled at first, but with constant whisking for 2-3 minutes, it should come together to form a smooth, creamy paste.
Add the milk gradually, about 1/4 cup at a time, whisking quickly and constantly until each addition is incorporated fully into the sauce.
Stir in the Parmesan cheese, pepper and salt. Stir until the cheese is melted and the sauce is the desired consistency.
Cook for 2-3 minutes for a thicker sauce or remove right after the cheese is melted for a thinner sauce.
Serve immediately over hot, cooked noodles.
Comments: I opted to use skim milk and low fat cream cheese. There was a very slight grittiness to the sauce, but it was worth it to me to not have the extra calories and fat. While the sauce was cooking I had noodles boiling, chicken baking in the oven, and some broccoli steaming. Throw it all together…. and you have one yummy meal!
Source: Mel's Kitchen Cafe