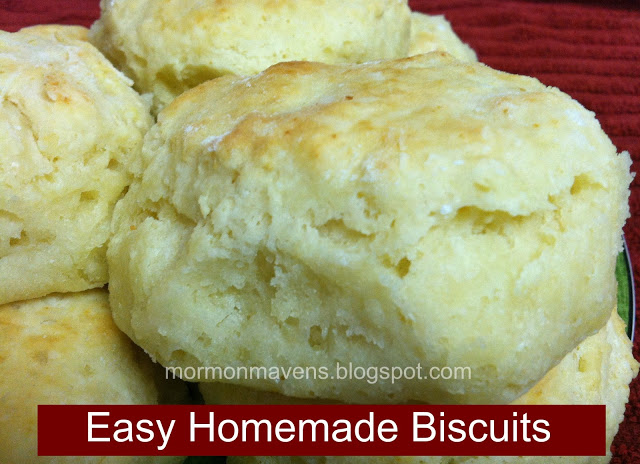 The other night we were out of bread and rolls, so I decided to whip out some quick biscuits to serve with dinner. These are easy to make, delicious, and it only takes a few minutes until you can sink your teeth into a hot, fresh, fluffy biscuit!

Easy Homemade Biscuits

Ingredients:
3 cups all purpose flour (you can use 1 cup whole wheat flour in the place of 1 cup all purpose flour)
1/2 tsp salt
4 1/2 tsp baking powder
2 TBSP sugar (I personally don't add the sugar, but it's part of the original recipe.)
3/4 tsp cream of tartar
3/4 cups cold butter (1 1/2 sticks)
1 1/3 cups milk (plus a little more)
1 egg, beaten

Directions:
1. Mix all dry ingredients in a large bowl.

2. With a pastry blender, cut in butter until mixture looks crumbly. If you don't have a pastry blender, you can cut up the butter with a knife as shown in the picture, and then mix and blend with your hands. That might not be the most sophisticated way to do it, but it works just fine.

3. Add egg and milk, stirring just until moistened. If the mixture seems too dry, add a little more milk. You want the dough to be quite moist, like the photo below. Do not overmix. You want to stir the dough as little as possible.

4. Turn dough out onto a floured surface. Sprinkle a little flour onto dough so you can touch it. Pat out about 1 inch thick or so. Cut dough with a biscuit cutter, or use a glass or cup like I do. Do not handle the dough very much. The less you touch it, the lighter they will be.

5. Place biscuits on a sprayed baking sheet. Bake in preheated 450 degree oven for 10 – 12 minutes or until the biscuits are done and are starting to brown on top. I like them when they are lightly browned, but some people like to cook them a bit longer and get them more browned and crustier.

6. Enjoy immediately with butter and honey, jelly, or even some delicious sausage gravy!

Source: I got the original recipe from my friend Patty Graff, a fabulous cook!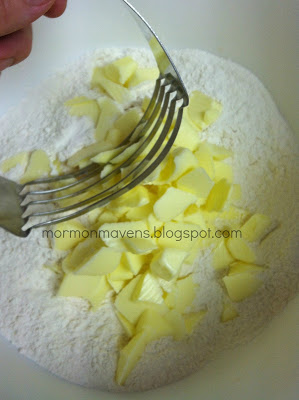 I cut the butter up into small pieces first, then I use a pastry blender. But you can use your hands instead if you don't have a pastry blender.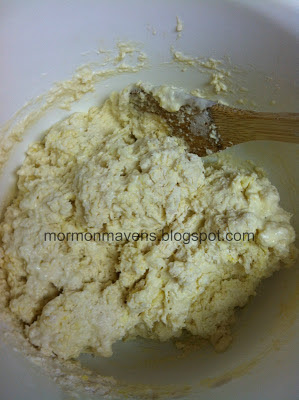 Stir just until moistened. The dough will be wet and sticky.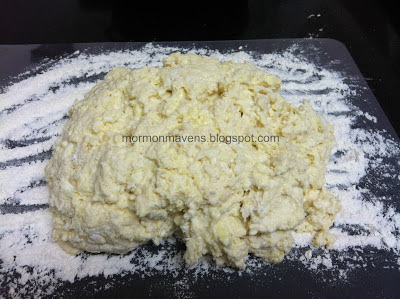 Put on a floured surface.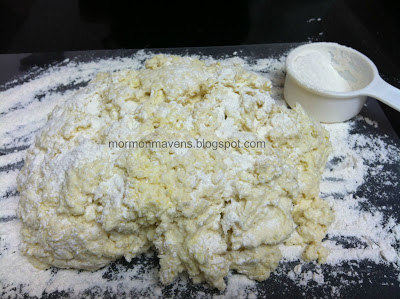 Sprinkle on a little flour so you can touch it.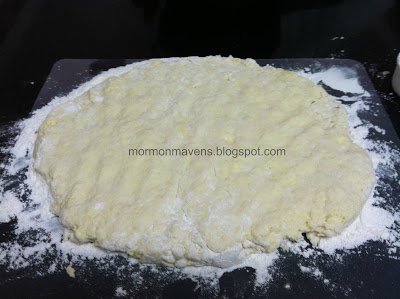 Pat it out about an inch thick. Touch the dough as little as possible.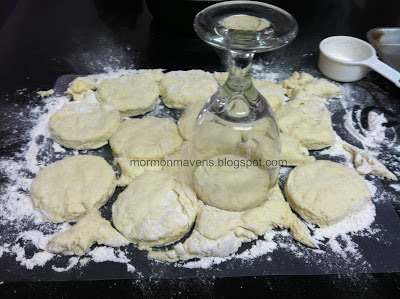 Cut biscuits with a biscuit cutter or a glass or cup. They don't have to look pretty. They will still taste amazing!
Place on a sprayed baking sheet and bake.