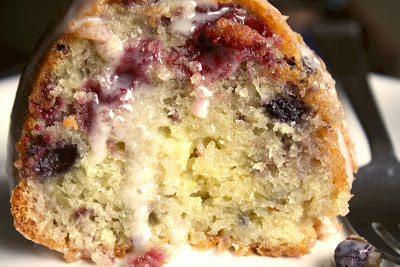 I found this recipe on Pinterest! (where else?!) The recipe on Pinterest called for strawberries only. I had a bag of mixed berries…so that is what I used. I liked it, but I like all sweets! My kids thought this tasted kind of like Fruit – Loops! I think that was because I used the mixed berries. So, you choose what berries you'd like to use and see how you like it. It's a pretty cake, isn't ? And, it is yummo!
1 cup (2 sticks) butter, softened
2 cups sugar
3 eggs
zest of 1 lemon
2 1/2 cups all-purpose flour, divided
1/2 tsp. baking soda
1/2 tsp. salt
8 oz plain or vanilla, greek yogurt
12 oz fresh strawberries (or frozen, or frozen medley of berries)
1 cup powdered sugar
Preheat oven to 350 degrees. Grease and flour a 10 inch bundt pan. Sift together the 2 1/2 cups flour, baking soda and salt. Mix in the lemon zest and set aside. ( I didn't have any lemons handy that day, so I used orange zest. It was pretty good. I think I might have liked the lemon zest better)
With an electric mixer, cream together the butter and sugar until light and fluffy. Beat in the eggs on at a time, then stir in 1 TB. lemon juice. As always, alternate beating in the dry ingredients, flour, with the wet ingredients, yogurt, mixing just until incorporated.
Toss the berries of your choice with the remaining 1/4 cup of flour. Carefully mix them into the batter so they don't turn to mush.
Pour the batter into the bundt pan. Bake in the preheated oven for 60 min., or until a toothpick inserted into the center of the cake comes out clean.
Allow to cool 10 minutes in the pan, then carefully turn out onto a wire rack and cool completely!!! If you can't stand it any longer and you glaze this baby without letting it cool completely, the cake will soak up the glaze. So, let it cool completely!
Once cooled whisk together the remaining 2 TB of lemon juice and the powdered sugar, drizzle over the top of the cake, and voila!e