So… have you fallen into the Green Smoothie craze yet? If not, you really should. My husband and I have been doing green smoothies for about a year now. I can honestly say that it's been the best "eating" decision we've made as a couple.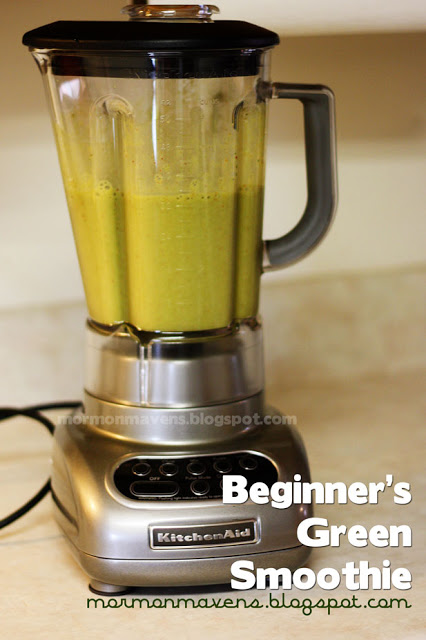 I know that if I have this smoothie for either breakfast or lunch, I instantly have 4 (1/2 cup) servings of fruit and 2 servings of veggies (if you use 2 cups of spinach).
Don't let the ingredients or color of the drink shy you away. This is a GREAT beginners recipe. I PROMISE you won't be able to taste the spinach! This makes a 32 ounce serving. It'll be really filling, and really tasty!
Beginner's Green Smoothie
Ingredients:
1 cup water (you could also use juice, I just don't want the extra calories)
1 cup light vanilla yogurt
1/2 c. unsweetend natural apple sauce
1 frozen banana
1 heaping cup of frozen strawberries
1-2 cups of fresh baby spinach
Directions:
– Put the ingredients in the blender in the order they are listed.
– Blend!
– Enjoy!
If you are doing Weight Watchers (like I am!) this whole drink is 4 points. You may be able to find a yogurt with less points… if you notice the only points in this drink is from the yogurt.
Want more of my smoothie ideas?
Blueberry Banana Smoothie
Jamba Juice's Strawberries Wild Knock Off