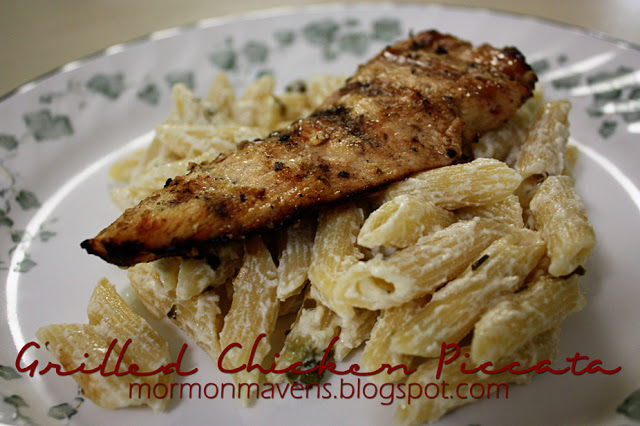 Who says you can't grill past Labor Day? In our home, we grill year round! This is such a tasty recipe. Once you take a bite, you'll think you're at your favorite Italian restaurant. Gotta give major props to Pioneer Woman (P-Dub if you will) for this amazing recipe!
Ingredients:

Chicken
Juice of 1 lemon (3 Tbsp)
3 Tbsp olive oil
1 Tbsp minced garlic
1 tsp salt
1/4 tsp black pepper
1/2 tsp basil or oregano
2 boneless, skinless chicken breasts
Pasta
2 cups dried penne pasta
2 Tbsp butter Juice of 2 lemons (6 Tbsp)
1 Tbsp minced garlic
1/2 cup half and half (or heavy cream)
2 tsp dried basil
2 Tbps capers (you'll find these by the olives at the grocery store)
1/2 cup grated Parmesan cheese
Directions:
Chicken
1. Combine first 6 ingredients.
2. Place chicken in a zipper bag and pour marinade mixture over chicken. Marinate overnight in the refrigerator.
3. When ready to cook, grill.
Pasta
1. While chicken is grilling, cook pasta. Reserve 1/2 cup of pasta water and drain.
2. In same sauce pan, melt butter over medium heat. Whisk in garlic and lemon juice.
3. Pour in half and half and whisk until hot. Add some salt and pepper to taste.
4. Add the Parmesan cheese, basil and capers, and heat until cheese is melted. Check the consistency of the sauce and add some of the reserved pasta water to loosen the sauce if necessary. 5. Toss in pasta. Serve in pasta with grilled chicken on top. Sprinkle with more Parmesan if desired.