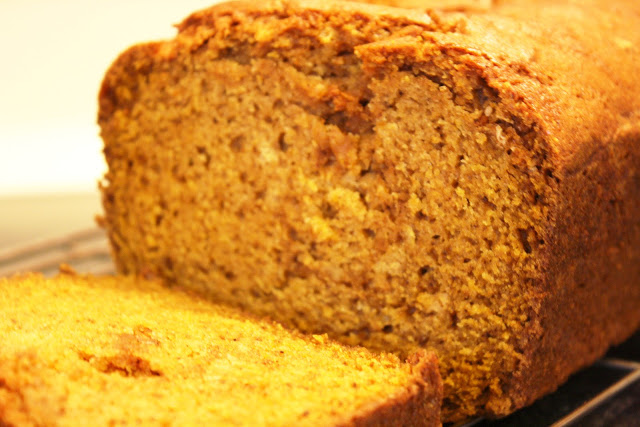 I know that I did a post a few months back on how much I love pineapple. But, let me tell you about how much I love Pumpkin and Fall in general! I mean I love this time of year! Any recipe with pumpkin, sweet potatoe, allspice, cinnamon, chocolate, cloves, ginger bread…oh, man! I could go on, and on, and on, but I want. Just know that if I post a recipe on this blog and it has any of the above mentioned…its good. Really good.
This recipe was found on pinterest! I tucked it away for this fall season and pulled it out today to make and take over to my new neighbors! (By-the-way, they are a very nice family.) Anyhoo, this recipe makes me happy for another reason other than the pumpkin and the spices, it make two loaves! You gotta love that. Because, sometimes in baking you can't just double a recipe. You have to make it twice! And that gets old. So, I loved that this makes two BIG loaves the first go round!
We made some cream cheese icing to smear on it and …sorry, there wasn't any left to photograph. But it was yummy too!
3 cups white granulated sugar
1 cup vegetable oil
4 large eggs
2/3 cup water
1 (15oz) can pumpkin puree
2 tsp. ground ginger (which is why i named this "pumpkinger" bread)
1 tsp. ground allspice
1 tsp. ground cinnamon
1 teaspoon ground cloves
3 1/2 cups all-purpose flour
2 tsp. baking soda
1 1/2 tsp salt
1/2 tsp. baking powder
Preheat your oven to 350 degrees. Lightly grease two 9×5 inch loaf pan. ( I generously sprayed Pam and it worked great!)
Mix your wet ingredients first. Beat together the following until smooth: sugar, oil, and eggs. Then add the water. Blend well. Add the pumpkin puree, and blend well. Then to the wet ingredients add the spices. The ginger, allspice, cinnamon, and clove.
In a seperate bowl mix together your dry ingredients. The flour, baking soda, salt, and baking powder. Add dry ingredients to pumpkin mixture and blend well. Divide the batter between the two loaf pans and bake!
Bake for about 1 hour or until your toothpick inserted comes out clean. I had to bake mine for about 1 hour and 15 minutes.
Recipe adapted from pinterest.