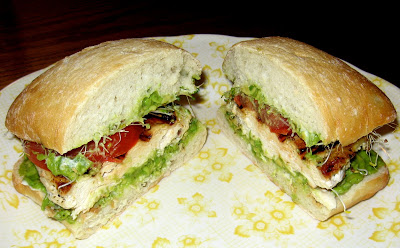 Lately my husband and I have been adding sprouts to our diet because of their health benefits. We love them on our salads and sandwiches. I'm not sure where the idea for this particular sandwich came from. I know I've had something similar to this in a restaurant. It may not look pretty but it sure is delicious!
Ingredients (for 2 sandwiches):
2 grilled chicken breasts (I marinated mine in olive oil, fresh garlic, lemon, parsley, salt, and pepper)
4 slices or bread (we used ciabatta)
1 medium tomato
1 ripe avocado
a lemon or bottled lemon juice
sea salt
freshly ground pepper
mayonnaise (optional)
alfalfa sprouts
1. Lightly toast your bread.
2. While bread is toasting cut 4 slices of tomato. Scoop out flesh of avocado and put into a bowl. Mash with back of a fork until desired consistency. Give it a splash of lemon juice and salt and pepper to taste.
3. Take slices of bread and spread a thin layer of mayo on them followed by the avocado spread.
4. Build your sandwich starting with the chicken breast, tomato slices, then finished with a layer of alfalfa sprouts.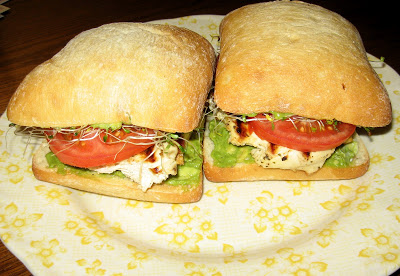 *This sandwich would taste great with a few bacon slices!