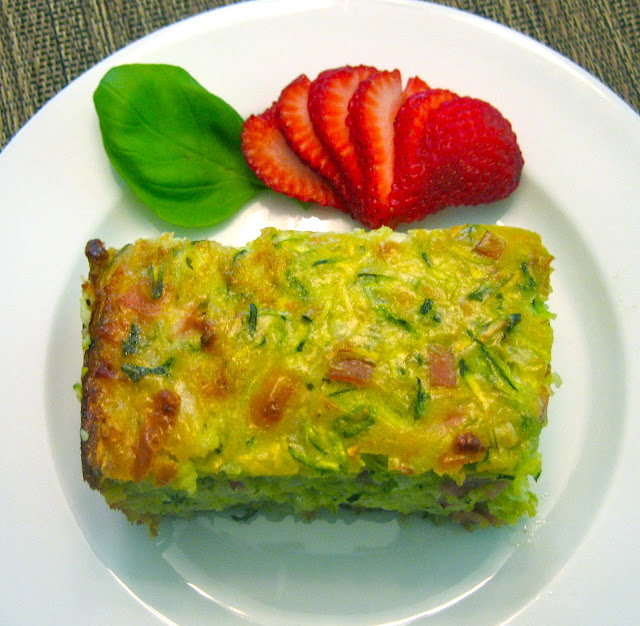 I know we JUST had a zucchini bake posted here but, sometimes options are good, no? I tried this recipe for the first time today and thought it was delicious and comforting. Hope you enjoy!
Ingredients:
4-5 small zucchinis (up to 15 oz) unpeeled and coarsely grated*
1 large onion, finely chopped
1 packet Canadian bacon (6 oz or to taste) finely chopped**
1 cup grated cheddar cheese, packed
1 heaping cup self rising flour***
1/3-1/2 cup oil
5 eggs lightly beaten
salt and pepper to taste
1. Preheat oven to 350 degrees. Grease a small or medium size baking dish (size will determine baking time).
2. Mix all ingredients in a large bowl. Pour into greased baking dish.
3. Bake 30-40 minutes for a medium or shallow dish. Today we used a small deep dish and it took 1 hour. Zucchini bake is done when brown on top and skewer inserted comes out clean. Can be served hot or cold.

Entertaining? Garnish with tomato slices or fresh chopped parsley!
*The smaller zucchinis will make the dish greener due to more skin.
**You can use ham or bacon as well. If you use bacon you may need to adjust the oil.
*** If you don't have self rising flour use 1 cup flour, 1 tsp. baking powder and 1/4 tsp. salt
Source: My Australian friend