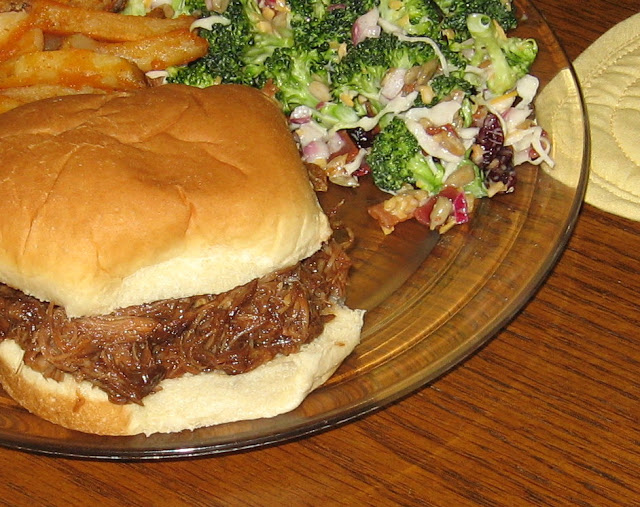 Ingredients:
1 3 pound pork roast (if frozen, thaw before prepping)
2 tablespoons olive oil
Montreal Steak Seasoning (or your favorite steak seasoning)
3-4 cups Root Beer, Dr. Pepper or Coke
1 1/2-2 cups Sweet Baby Rays BBQ sauce
6-8 rolls for serving
1. Season your pork roast generously with the steak seasoning. Be sure to massage the spices into your roast really well!
2. Heat 2 tablespoons of olive oil in a large skillet and sear all sides of the roast.
3. Pierce roast a couple of times with a fork and place in a large crock pot.
4. Pour soda over your meat, cover and cook on low for about 7 hours; or until meat shreds easily with a fork.
5. Remove roast from crock pot and shred with two forks. Put shredded meat back into the soda juices, cover and cook for 1 more hour.
6. Drain juices from crock pot and pour in BBQ sauce. Mix well, cover and cook for 30 minutes or until BBQ sauce is heated through.
7. Serve pulled pork on yummy rolls and enjoy! You could also add a handful of cole slaw to each sandwich for texture!
Source: Jamie Cooks It Up!