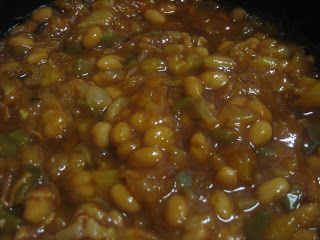 This recipe is sassy, sweet and sour (not to mention super easy and quick).
Ingredients:
1 lb. bacon, diced
1 onion, diced
1 green pepper, diced
2 (31 oz.) cans pork and beans
1 (20 oz.) can crushed pineapple, drained
1 cup brown sugar
1 (16 oz.) bottle ketchup
6 T. Worcestershire sauce
Directions:
1. In a large skillet, cook bacon until halfway cooked.
2. Add onion and green pepper.
3. Contiue to cook until bacon is crisp and onion and green pepper are softened. Drain.
4. In a 3 qt. crock pot, blend together pork and beans, pineapple, brown sugar, ketchup, and Worcestershire sauce.
5. Add bacon mixture to beans and stir to combine. Cook on low for 3 hours.
Serves 12.
Source: Real Mom Kitchen, Keepin' It Real In The Kitchen by Laura Powell